The Tweets as Arsenal get ready to sign Arsene Wenger to a brand new long-term contract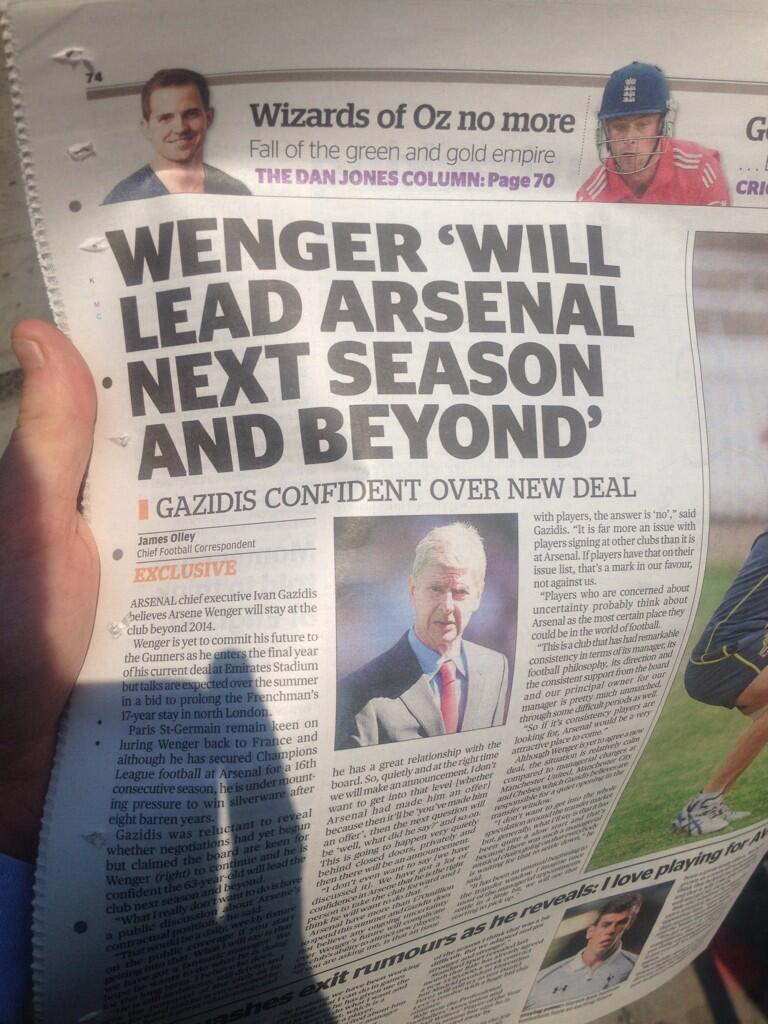 Eight years, no trophies, but Arsenal seem more than happy with Arsene Wenger.
After snatching fourth place in the 2012-13 Premier League season to scrape into the Champions League by the skin of his teeth, Arsene Wenger is set to be rewarded with a brand new contract at the Emirates.
Arsenal chief executive Ivan Gazidis has confirmed Wenger's standing at Arsenal on Thursday telling reporters:
We think we have got a fantastic manager. We hope he wants to do what he is doing for the long term. I believe he does.
I think he is still ambitious, still driven and sees the potential of the club as he looks forward and I think he is very excited by that. 
We have got a lot of confidence in Arsene that he is the right person to take the club forward and I think he will want to do that. This is going to happen very quietly behind closed doors, privately and then there will be an announcement. 
News of Wenger's impending contract extension at Arsenal has quickly spread, with opinions divided about the merit of continuing to keep the Proffessor at the helm at the Gunners.
A series of the best Tweets regarding Arsenal's intention to retain Arsene Wenger can be seen below.
Wenger twitter.com/Footy_Booties/…

— Footy Booties (@Footy_Booties) June 6, 2013
If Wenger has been offered a new contract this is fantastic. A genius manager who has kept the club afloat and competing in big money days.

— Billy Lunn (@billysubway) June 6, 2013
I win NOTHING for 8 YEARS AND COUNTING – yet Gazidis wants to offer me new deal!! #WengerJoke !!

— Arsene Wenger (@ArsendWenger) June 6, 2013
If Gazidis can convince Wenger to stay at a club that isn't regularly winning trophies, he's better at his job than I thought.

— Ricky Gee (@GeezyPeas) June 6, 2013
One thought on Wenger, if there is a deal until 2017, it would take him to 21 years at #afc. Pardew on 3yrs is 2nd longest in PL now

— Jeremy Wilson (@JWTelegraph) June 6, 2013
I'd have no issue with AW being handed a 3 yr deal if I thought either party would even consider breaking it if it wasn't working out.

— gunnerblog (@gunnerblog) June 6, 2013
---