The Top 10 team goals of all time: How does Jack Wilshere goal v Norwich rack up?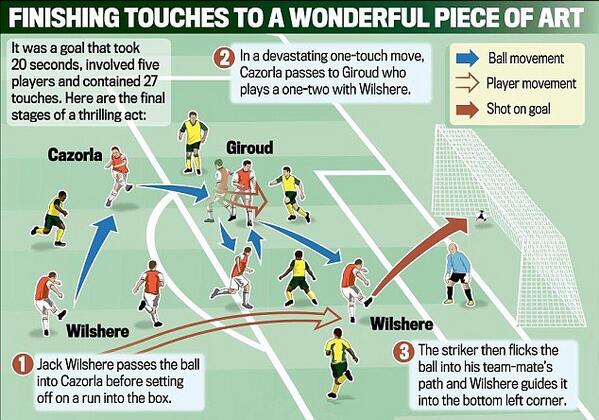 Nearly two days on from Jack Wilshere combining with Santi Cazorla and Olivier Giroud for Arsenal's opener, there is still plenty of chatter about the Gunners' opener at the Emirates on Saturday.
In the Daily Mail, Jamie Redknapp has described it as "the finest team goal of the season and one of the greatest you are likely to see."
But, not all are convinced.
In The Times today, we are told Giroud's backheel was "misjudged" & Wilshere's "was lucky".
No doubt, this debate will run and run but the only way to truly see if Jack Wilshere's goal was one of the greatest team goals of all time, we have to compare it with the others in recent history.
In truth, even Arsenal fans may struggle to compare it against the goals finished by Carlos Alberto and Esteban Cambiasso, since they came in World Cups and are two of the most memorable of all time.
Below are the top 10 team goals of all time, in chronological order, followed by the best angle of Jack Wilshere's for Arsenal. Go ahead and leave your opinion (or any team goals we missed) in the comments below.
Enjoy!
Carlos Alberto (Brazil) v Italy, 1970 World Cup final
Mick Channon (Southampton) v Liverpool, 1982
Esteban Cambiasso (Argentina) v Serbia, 2006 World Cup
Gary Lineker (Spurs) v Porto, 1992
Paul Scholes (Manchester United) v Panathinaikos, 2000
Marc Overmars (Barcelona) v Liverpool, 2001
Leandro Zárate (Union) vs Talleres, 2008
Didier Drogba (Chelsea) v Bolton, 2009
AO Giannina's "best team goal ever," 2013
Lima (Benfica) v Sporting Lisbon, 2013
Jack Wilshere (Arsenal) v Norwich, 2013
---