The San Iker Scandal: You're only as good as your last game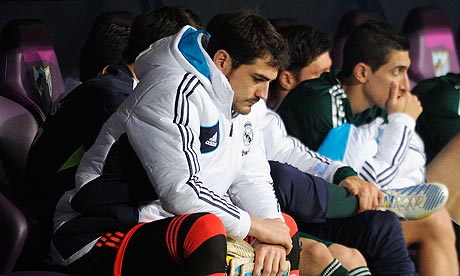 'They need you now…but when they don't…they'll cast you out.' – The Joker, The Dark Knight
Paul Morrissey, in Madrid – Follow on Twitter here
What looked like becoming an affaire d'etat is becoming a normalised situation.
Iker Casillas is Real Madrid's number 2 goalkeeper.
And there's nothing scandalous about that.
A player got injured, another has taken his place, and now he'll have to fight to get it back. Y'snooze y'lose.
Club symbol. Canterano since the age of 8. Totemic. A national hero. Un mito. San Iker Casillas is all of these things and more, but all those crying scandal with faux moral outrage have forgotten one of football's Golden Rules: you're only as good as your last game.
And this is the problem with an indisputable, untouchable Number 1 goalkeeper: they are too often beyond reproach, de facto owners of the gloves. For too long – ever since Cesar retired in fact, Iker Casillas would rock up to Valdebebas knowing full well that little or nothing could dislodge him from the throne. Who was going to bump him off? Adan? No one had ever even heard of him until December's Banquilazo when Mourinho used and abused him, throwing him to the slaughter as a hapless patsy.
And that's not a healthy situation. Schmeichel had Van der Gouw, Cech had Cudicini, and Buffon has always had a decent understudy to keep him on his toes (Storari, Manninger). Without that, where's the incentive to work and improve? As far back as 2003/04, the privileges of being the undisputed number 1 had already begun to set in.
According to Arrigo Sacchi, fleeting sporting director for that one season, Casillas 'never trained well.' And why would he? Revered and idolised by a nation, it had all become so easy for Iker. Why push yourself when the position is yours to keep?
Casillas is a great goalkeeper, but that's not to say he couldn't be better.
Or in better shape. He's no Benzema, but let's just say he's probably no longer Men's Health cover photo material. The best shot-stopper and the most cold-blooded keeper around in 1 v 1 duels, he's never been commanding in the air and still has a lot to learn from Victor Valdes on footwork and starting attacks.
A perfect example of his weakness in the air came in the first game of the season, when he was left in No Man's Land on Valencia's goal, clattered Pepe and left him thinking his name was Pablo.
Little or no blame was then, or ever has been attached to Casillas for these mistakes, being the heir of Madridismo from Raul, the symbol who physically can't pay for a coffee in the city.
The guardameta from Móstoles, who joined the Blancos prebenjamins at the age of 8, doesn't make it easy to criticise him. Inheriting both the captaincy and symbolic status from Raul, Casillas has worn the armband with style and señorío. But unlike the xenophobic striker (Michael Owen likes this) who towards the end held onto his place purely through status and politiking , Casillas has always enjoyed nationwide, even universal love.
No one dislikes Casillas: an articulate, indisputably gran señor, as magnanimos in defeat as humble in victory, he commands respect.  Living the self-effacing Good Life with his conventionally wapa girlfriend.
Until now it had almost been too good to be true. Indelibly associated with both La Octava and La Novena (when he came on as a sub to pull off several saves in extra time), Saint Iker and Madridismo now face the prospect of him watching the very possible Decima from the bench. Aside from being temporarily replaced by Cesar back in 2002/03 through loss of form, this is the first real test of Casillas' career.
It's not an easy situation. As if the indignity of being benched for a guy named 'Adan' wasn't bad enough, he now has to suffer the ignominy of watching a man in tights usurping his throne.
But Diego Lopez has earned his place. The gallego hasn't made a single mistake since being rushed in as what looked like a stop-gap, and from his point of view, it would be a betrayal of sporting integrity to remove him now. Mourinho, who can barely hide his delight at the serendipity of the situation (never naming Casillas, referring to him as 'him', Lopez as 'Diego), holds all the cards. His refrain is simple: if it's not broken, don't fix it.
Casillas must feel as though he's been rudely awoken from a blissful dream. He's been dragged down from Cloud 9 and snapped back to the reality of every other player. Great as he's been, you're only as good as your last game.
Mourinho's doused cold water over Casillas' fairytale career, and reminded him that no Great gets an easy ride into the Pantheon. You have to earn that status through adversity.
---
GAMBLING CAN BE ADDICTIVE, PLEASE PLAY RESPONSIBLY