The Puyolazo returns (Carlos Puyol scores yet another bullet header v Real Madrid)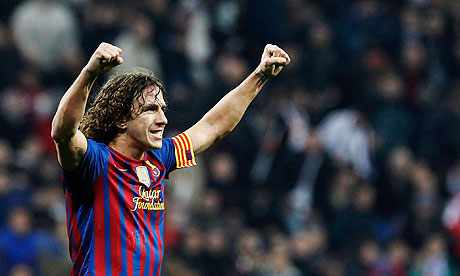 Definition of "Puyalozo": To score a bullet header from a running jump off a set piece, leaving the keeper with no chance as the ball flies into the back of the net. Patented by Xavi and Carles Puyol.
The Barcelona captain once again proved his quality at the Bernabeu in the first leg of the Copa del Rey quarter final with a trademark goal to bring Pep Guardiola's side level in the match.
Puyol has now gone 50 consecutive games without defeat, the last time he played for Barcelona in a loss was to Inter Milan in April 2010.
After the match, Xavi said of Puyol's equaliser: "It was a psychological goal. We had discussed the play [beforehand] and it has come off to perfection. We have enjoyed today."
The stunning facet of Puyol's goal at the Bernabeu was that we have been here before. In May 2009, Puyol scored another "psychological goal" in the 6-2 victory at Real Madrid's home ground, also from a Xavi dead ball.
Puyol has now scored two of his 11 goals for Barcelona at the Bernabeu, in exactly the same manner. The only difference in 2009, was that it was from a Xavi free-kick.
Whilst perhaps the most famous "Puyolazo" came in Spain's World Cup 2010 semi-final win over Germany, as the Barcelona captain secured La Furia Roja's spot in the final. (Our article on that "Puyolazo" is here.)
The latest Puyolazo (where Puyol escaped the attentions of the dastardly Pepe) can be seen here.
---
GAMBLING CAN BE ADDICTIVE, PLEASE PLAY RESPONSIBLY