The "Paradinha" penalty claims a victim: Wender (Brusque) vs Joinville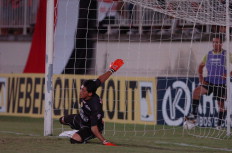 Several weeks back it was reported that FIFA are taking issue with the "Paradinha" penalty, or "little stop" in Portuguese.
The Paradinha describes the situation in which a penalty-taker runs up, gives a sudden little stop during which the keeper commits himself to dive one way, allowing the taker to calmly roll the ball in the other direction.
In recent weeks the Paradinha penalty has caused controversy in South America, with both Santos playmaker Neymar and Fluminense forward Fred converting spot-kick using the questionable method of taking penalties (see here). But last weekend in Brazil the penalty caused a much more serious situation when Brusque goalie Wender managed to fracture his left arm when being fooled by a Paradinha in the match with Joinville.
Playing in the Campeonato Catarinense in Brazil, keeper Wender found himself facing a spot-kick from home striker Lima when the striker faked out the number one with his "little stop." Swallowing the Paradinha hook, line and sinker, Wender dropped to his left hand side only to fall badly only his arm when he realised he'd fallen for the dummy.
The goalie will now face at least a month of the sidelines as he recovers from his unfortunate injury.
The incident can be seen here.
Best football betting tips & free bet offers
Click here for more Premier League betting tips
---