The Norwegian nutcase: Kenneth Dokken assaults Johan Arneng (Aalesund-Odd Grenland)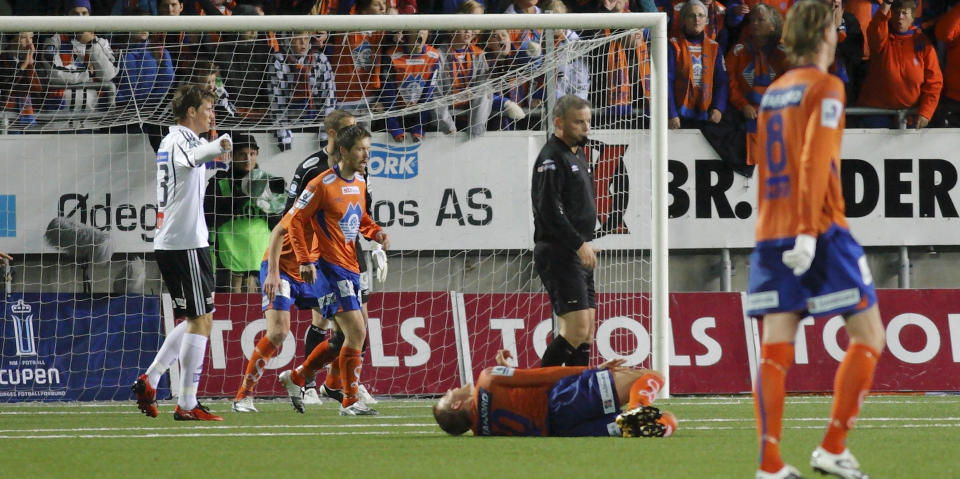 After the shenanigans earlier in the week in Sweden which saw IFK goalie Kim Christensen get caught for literally move the goalposts, on Thursday night it was Norway's turn to produce its own moment of madness for the week.
The setting was the NM Cupen match between Aalesund and Odd Grenland which the hosts eventually ran out narrow 1-nil winners. But the scoreline is somewhat by-the-by.
Of far greater interest was one of the worst acts of premeditated, but nevertheless sly violence seen for quite some time as Grenland's Kenneth Dokken brutally assaulted Aalesund's Johan Arneng with both the victim caught unaware and the referee caught blindsided.
As Aalesund looked to build an attack, centre-half Dokken had only one thing on his mind. Kick. Arneng. Hard. As so it proved, as the number 33 purposely picked his moment when the referee's head was turned before striking out at his victim with a hefty whack to Arneng's thigh.
Arneng was sent crashing to the deck, but like a professional villain Dokken walked away happy as Larry as none of the officials caught sight of the incident unfold.
We wait to see what disciplinary action the Norwegian FA hand out to Dokken.
Kenneth Dokken's violent assault on Johan Arneng can be seen here.
---
GAMBLING CAN BE ADDICTIVE, PLEASE PLAY RESPONSIBLY