"The national squad is, like I said, [Liverpool's Javier] Mascherano and 10 others" – Diego Maradona (video)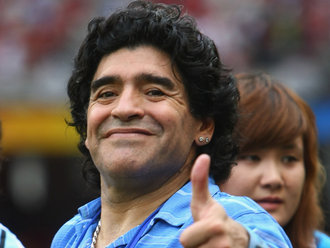 Diego Maradona continues to defy the naysayers who came out against his appointment as the Argentine national coach, giving a lucid and informative interview to the Argentine TyC television station over his early struggles and thoughts in his new job.
Maradona: "I had to reinvent myself, fight once again, get up every morning. I was dead, practically. Then I was the host of a television program. I went out and gave lectures and told people they could get off drugs. I have proved to myself that I can lead a group, and I know that [ex-manager Carlos] Bilardo will show me if I'm doing it wrong. I am awake at 4am designing a team. I grabbed el Bilardismo for this. But all the teams I thought of are so attacking. For so many years I haven't been this happy, this committed to a project."
On the Argentina team: "When I started the squad was confused and flat. They felt they'd done enough. Since then we've worked with our minds and with our blood. The selection? It's [Javier] Mascherano and ten more. This is the great boost for [Juan Roman] Riquelme in the squad, and to have him effective he needs to be far forward. We're served well physically if we can have a man go off and join the attack like this, rather than be sandwiched between Mascherano and Gago."
Diego Maradona's interview (in Spanish) can be seen here.
---
GAMBLING CAN BE ADDICTIVE, PLEASE PLAY RESPONSIBLY