The latest Andres Iniesta surrounded by loads of (Real Madrid) players picture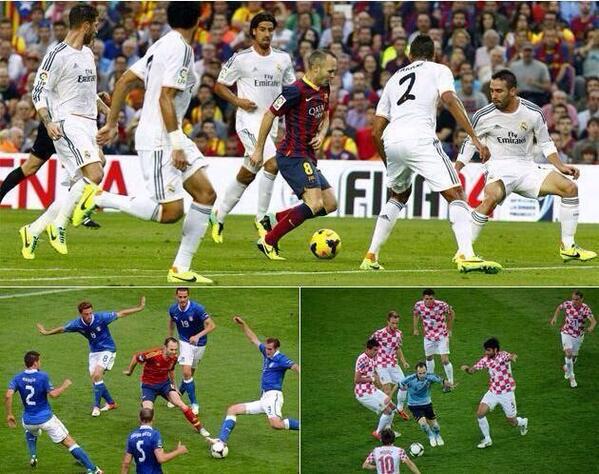 "We still have to hit top form. The team has to keep on improving over the season in order to be in the running for titles. At this stage of the season it's not definitive as there's a long way to go. It's true that matches against Madrid have something extra, an extra motivation. On Tuesday [against Celta Vigo] there are another three points in play and if we don't win that match, what we have done against Madrid won't mean anything. We have to enjoy it and savour it, and then think about Vigo." – Andres Iniesta.
Andres Iniesta once again put in a fine shift for Barcelona in the El Clasico win over Real Madrod on Saturday night.
A trademark shuffle forward set up Neymar for the Barcelona opener and Iniesta produced some great touches throughout before he was replaced by Alex Song, seconds before Alexis Sanchez lobbed home the second goal.
Not for the first time, Iniesta was caught by the photographers surrounded by opposition players.
This craze caught on in Euro 2012 and shows no signs of abating. Pictures above and below followed by Andres Iniesta's best clips v Real Madrid.
---