The free-kick master: Juninho (Lyon-Barcelona) or Cristiano Ronaldo (Manchester United-Blackburn)?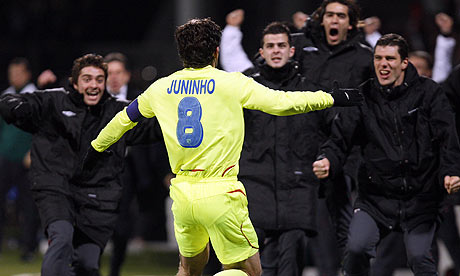 During Sky Sports' round-up of the Champions League matches on Tuesday night, presenter Richard Keys and guests Gary McAllister, Avram Grant and Jamie Redknapp got embroiled in a discussion of who is the better free-kick taker between Lyon's Juninho Pernambucano or Manchester United's Cristiano Ronado.
The debate was sparked by a comparison of Juninho's wonderfully flighted free-kick against Barcelona (watch here) versus Cristiano Ronaldo's effort last Saturday against Blackburn in the Premier League (watch here).
Jamie Redknapp called Juninho's dead-ball "sensational," and stuck his neck out claiming that the Brazilian's delivered the better free-kick. Redknapp went on to wax lyrical over Juninho, calling him the "master" and correctly pointing out the Lyon midfielder has been perfecting his free-kick skills for years, with others following his lead.
Gary Mac and Avram Grant followed their fellow pundit in agreeing that Ronaldo should be the runner-up, while it was left to Keys to argue that Victor Valdez was also liable for the free-kick going in.
The Sky Sports' discussion can be seen here.
---
GAMBLING CAN BE ADDICTIVE, PLEASE PLAY RESPONSIBLY