The FA's Respect campaign already looks dead in the water
Comment & analysis round-up
Quote of the day: "The Respect campaign is still going to go ahead and we're still going to work at it but it will take time. What is not helping is the high-profile managers doing what they're doing; sometimes they think they can get away with murder. The referees are trying to do their part – and I'm not saying they're foolproof – but the reactions of the managers and players have got to ease down a bit. Did you see Rio Ferdinand at the final whistle on Sunday? He was swearing and throwing his arms around, thinking that the referee had given a foul against him. What [the referee] was actually doing was blowing the final whistle. If he had waited and thought about respect, that wouldn't have happened. So I don't think a lot has changed. Players still cannot put themselves in the shoes of a referee and think, 'This is what the referee has seen'." – an unnamed referees' assessor.
Runner-up: "The tackle was a disgrace – very bad. There is no place for that in football. I have nothing against Kevin Davies, he seems a good guy. But he uses his elbows far too much. It is wrong to allow those sorts of challenges in football. If we are going to allow that, you might just as well get in kids off the street because they can make those challenges just the same as anybody else can. Football is supposed to be a game of skill. I am sure we could go out and kick players just as hard as we are kicked but we'd rather concentrate on playing football." – Kolo Toure.
Today's overview: Five rounds into the new season, and the FA's much lauded Respect campaign looks like a rubber duck. Ian McGarry and Gary Payne come together to publicise quotes from Kevin Nolan, who admitted telling Jlloyd Samuel to give Theo Walcott "a little kick and see if he comes back at you." Ian McGarry then goes out on his own to slam the FA for "sticking two fingers up at their own Respect campaign."
Attention then turns to other Premier League issues this Tuesday. Kevin McCarra is quick to state that there is no crisis at Old Trafford, but he nevertheless goes on to highlight flaws in the champions' camp. While over at Chelsea, Jeremy Wilson looks into how the Blues are set to contend with a depleted squad.
By contrast, Arsenal come up smelling like roses after a confidential team memo was found in a Manchester hotel. Jason Burt purrs over Arsene Wenger's tactics ("The astonishing fact about the briefing – contained on an A4 sheet of paper and given to the squad at a team meeting on the eve of their Premier League match away to Bolton Wanderers on Saturday – is its simplicity") while the Independent employ the service of Cary L Cooper, Professor of Organizational Psychology at Lancaster University, to shed further light on Wenger's tactics.
Staying in the Premier League, Henry Winter argues that top flight owners and boards must trust their managers in order to succeed, Ian Wright churns out standard cliches when analysing Spurs' poor form, Edward Gibbes reports that West Ham may soon be forced to pay Sheffield united a whopping £30m payout after a tribunal found in Sheffield United's favour over the Carlos Tevez affair.
On Manchester City, Ian Ladyman splashes with an EXCLUSIVE that Thaksin Shinawatra stands to make a profit of more than £50million from the sale of the club, whilst Alan Smith looks at City's tactics which worked so well against Portsmouth.
Newcastle are also featured, Jason Meller investigates the mooted Nigerian takeover bid, while Stan Collymore argues that the Toon should target Steve Bruce for their vacant manager's position.
Tony Cascarino argues (in his usual over the top fashion) that the events at Watford at the weekend have proven that video technology needs to be introduced into football, while moving onto continental issues, Paolo Bandini looks into how AC Milan won their first game of the season and Sid Lowe delivers the brilliant story of how Spanish boxer Jorge Munoz got into a confrontation with Guti at the weekend.
Following on the lead quotes, The Sun's Ian McGarry and Gary Payne come together to mock the FA's Respect campaign, citing Kevin Nolan's comments as their primary source. Nolan: "I have never seen anybody as quick as Theo Walcott in my life. I said to Jlloyd Samuel 'Give him a little kick and see if he comes back at you! At the end of the day, it is a physical sport. We don't want to be like basketballers. We are in the gym four or five days a week to build ourselves up to try to stand up to challenges like that. We are in danger of losing that side — the roughing up of people."
Ian McGarry then goes out on his own to slam the FA for shooting their own Respect campaign in the foot. "The FA were guilty of sticking two fingers up at their own Respect campaign. Guilty because there will be no serious action taken against Manchester United or Chelsea after another snarlig clash on Sunday. Guilty for allowing referee Mike Riley and his fourth official Rob Styles to let Rio Ferdinand off for his foul-mouthed rant at the final whistle. And guilty for washing their hands of the Chelsea thug who threw a bottle at United's team coach, cracking its windscreen. In fact, the only penalty dished out by Soho Square in the aftermath of the second Battle of the Bridge in five months was an automatic fine. For their seven bookings — three of which were for dissent to the now 'protected' referee — United will pay the princely sum of £25,000. If ever there was a statement of no intent, then there it is."
While Kevin McCarra (Guardian) is quick to state that there is no crisis at Old Trafford, he nevertheless goes on to highlight flaws in the champions' camp. "United are not in any kind of crisis and rivals may have far worse spells to endure, but there are many small disturbances. Edwin van der Sar, for instance, has begun to look his 37 years. Of the understudies, the currently injured Ben Foster, at 25, is yet to prove himself and Tomasz Kuszczak, coming off the bench at Stamford Bridge, was to blame for Chelsea's equaliser. Ferguson's mind also has to churn with conventional topics. With more proof now given, for instance, that Wayne Rooney needs to be in the centre, how are Berbatov and Carlos Tevez both to be accommodated? It is facile to snort that these are dilemmas all other managers covet. United have grounds for thinking themselves the finest team in the world but Ferguson, at 66, faces a severe test to place the club at the head of the Premier League once again."
With the injury problems piling up for Scolari's Chelsea, Jeremy Wilson (Telegraph) looks into how the Blues are set to contend with a depleted squad. "Deco has been diagnosed with a tear in an upper thigh muscle and will be unavailable for two weeks, while Carvalho faces around four weeks on the sidelines after straining a medial collateral ligament in his knee… The injuries cast some doubt on the club's wisdom in reducing the size of the first-team squad over the summer. While new signings Deco and Jose Bosingwa have brought added quality to Scolari's best starting line-up, the departures of Steve Sidwell, Claude Makelele, Tal Ben-Haim, Shaun Wright-Phillips, Andrei Shevchenko and Claudio Pizarro have limited options for competitions such as the Carling Cup… The problem in midfield could be eased in the coming days by the arrival of the Brazilian free agent, Mineiro… Central defence is also an area of concern, where Branislav Ivanovic would provide the most obvious cover for Alex and John Terry."
Jason Burt (Independent) purrs over Arsene Wenger's tactics, after a confidential document from the Frenchman to his squad was found in a Manchester hotel at the weekend. "The astonishing fact about the briefing – contained on an A4 sheet of paper and given to the squad at a team meeting on the eve of their Premier League match away to Bolton Wanderers on Saturday – is its simplicity. The document runs to just 224 words and nine times in the opening two paragraphs the word "team" is used while there is also an emphasis on being "strong", having "belief" and "keep going until the end"… That the briefing is so simple may surprise some but, given the various nationalities in the Arsenal squad and given the youth of the team, then it is no real surprise."
In a supplementary article, the Independent employ the service of Cary L Cooper, Professor of Organizational Psychology at Lancaster University, to shed further light on Wenger's tactics. "What Arsenal are attempting here is laudable, given the macho nature of football and the increasing mobility of players. Football teams used to be like close-knit families, this is what made them strong and effective… re-creating this and re-enforcing the team spirit and camaraderie is important. What clubs also need to do is to action these sentiments, by finding ways of translating them into action plans on the pitch and off the pitch. Arsenal get 10 out of 10 for trying to re-emphasize the importance of 'the team', a family of players."
Henry Winter (Telegraph) argues that Premier League owners and boards must trust their managers in order to succeed. "Dug-outs need not be bunkers. Managers should demand "complete control'', to borrow another Wenger remark to Ferguson. Trust is vital. The reason why Ashley struggles to find a manager of substance at Newcastle is because there is no trust left at Sid James' Park. Liverpool's American co-owners, who infamously flirted with Jurgen Klinsmann, must trust Rafa Benitez. Spurs' owners must keep faith with Juande Ramos… The three promoted clubs, Stoke City, Hull City and West Brom, have enjoyed better-than-expected starts because of the trust between chairmen and managers, who have been able to strengthen squads. Harry Redknapp, Steve Bruce, Paul Ince, David Moyes and Roy Hodgson, amongst others, all have the trust of their boards, and rightly so. The Premier League is packed with outstanding managers."
Ian Wright churns out a standard cliches when analysing Spurs' poor form in The Sun. "Spurs defend their trophy at Newcastle tomorrow before going to Portsmouth on Sunday. Two big games. If Tottenham suffer a few more dodgy results Ramos will find himself under immense pressure… The new lads have not delivered. They are clearly not dealing with the pressure very well. Tottenham fans always turn out in force so you cannot blame them for venting their frustration — and Sunday's goalless draw with Wigan was another disappointment. Bentley, in particular, was always going to have a tough job to win over the fans as a former Arsenal player. But the fans must give him a chance as he will definitely prove to be a good signing. He's class."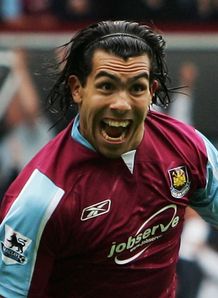 West Ham may soon be forced to pay Sheffield united a whopping £30m payout after a tribunal found in Sheffield United's favour over the Carlos Tevez affair, reports Edward Gibbes (Guardian). "The compensation figure has yet to be set but United are reported to be demanding £30,396,897. Of that amount, £21,788,795 is for lost television and marketing money, along with lost bonus payments for league positions. Also included is a claim of a loss of £4m on the sale of Phil Jagielka to Everton. The Yorkshire club say the defender was worth £8m at the time but he had a buyout clause in his contract of £4m if they were relegated. The rest of the claim is for ticket sales and other commercial activities… Because West Ham agreed to the tribunal, under the auspices of the FA, it is unclear whether they have any right to appeal."
The Daily Mail's Ian Ladyman splashes with an EXCLUSIVE, reporting that Thaksin Shinawatra stands to make a profit of more than £50million from the sale of Manchester City. "It was widely reported when Thaksin bought the club in June 2007 that he had ploughed £80m of his own cash into City, but it has subsequently become clear the initial investment was significantly lower than that. The £200m sale to the Sheikh's Abu Dhabi United Group will leave the former Thai Prime Minister at least £50m up on his investment once various loans have been repaid."
The Telegraph's Alan Smith looks at Manchester City's tactics which worked so well against Portsmouth. "He has only one central striker in Jo and a plethora of players who have good movement, imaginative and technically adept – Elano, Stephen Ireland and of course, Robinho. In addition, Shaun Wright-Phiilips is important because he gives City an outlet on the right wing when Robinho will naturally come inside from the left. It's important they maintain width and SWP provides that… It may not be appreciated by all City supporters, but there are comparisons with Manchester United in the way there is movement from deep, the interchanging of positions which can only be achieved successfully with top quality players."
Jason Meller investigates the mooted Nigerian takeover bid for Newcastle in The Times. "Chris Nathaniel, the man who unleashed Rio's World Cup Wind-Ups on an unsuspecting nation, has emphasised that his fronting of an unlikely £400 million bid to buy Newcastle United is not a vehicle for his latest foray into football's version of candid camera… If the unspecified nature of his financial muscle is perplexing, Nathaniel's claim that the group is willing to meet a reputed asking price in excess of £400 million, a sum that has dampened interest in most quarters, is puzzling… but the businessman is adamant that his efforts to enhance the global profile of the top tier of English football is not a stunt."
Staying with Newcastle, Stan Collymore (Mirror) argues that Toon should target Steve Bruce for their vacant manager's position. "Step forward Geordie Steve Bruce. The Wigan manager used to sneak under the turnstiles as a kid to watch his beloved Newcastle. He was courted for the job in 2004 and wanted it but felt compelled to stay with Birmingham after earning a reputation for switching clubs. Now I think the circumstances are different as he could walk out of Wigan tomorrow with his reputation intact after his stunning rescue act last term to save them from the drop. Bruce would not come cheap as he is on around £3million a year, but businessman Ashley must know that investment will pay off if it helps get a buyer. And as Keegan is not coming back, the only way to cheer up the Geordie public is to hire one of their own."
The Times' Tony Cascarino argues (in his usual over the top fashion) that the events at Watford at the weekend have proven that video technology needs to be introduced into football. "Referees need help. That is the only conclusion I can draw after a series of high-profile mistakes by match officials over the past few weeks. They are making a mockery of themselves and the sooner we bring in video technology to help them the better… The referees and their assistants look like nervous wrecks before the match. And after the game they are cannon fodder for everyone. It does not help with all the television cameras on them, examining their decisions from every angle. The eagle-eyed match assessor is probably more of a hindrance than a help, too."
Paolo Bandini (Guardian) reviews the weekend's events in Serie A, reporting on how AC Milan won their first game of the season. "There were voices of dissent in the stands as Ancelotti left both Ronaldinho and Andriy Shevchenko on the bench, but doing so allowed him to deploy Alexandre Pato and Marco Borriello together up front for the first time. He was rewarded with a goal from the former and a tireless, selfless performance from the latter. Ronaldinho's introduction may have drawn a roar of approval from the San Siro crowd, but by that stage Borriello had already won similar acclaim for tracking all the way back to the edge of his area to deny Cristian Ledesma a shooting chance for Lazio…The formation also allowed Kakà  to return to a central role in behind those two strikers. As well as digging out a stunning strike for the fourth goal, Kakà  orchestrated the vast majority of Milan's best play. Ancelotti's enjoyment of his performance will only have been tempered by the knowledge of how heavily the team continues to rely on his brilliance."
In his weekly La Liga round up in the Guardian, Sid Lowe delivers the brilliant story of how Spanish boxer Jorge Munoz got into a confrontation with Guti at the weekend. "Jorge Muñoz — a deaf boxer who for some reason is harbouring a grudge against the Madrid midfielder… Guti spotted Muñoz in a blue Polo (or a black one if you read AS) at Valdebebas on Saturday and, after exchanging words, accelerated through the security gates to shake him off, only for Muñoz to chase him and get through too. A security guard cut him off, prompting a crash. Two more security guards arrived on the scene to try to apprehend Muñoz but, as Marca brilliantly put it, 'they came across a man who is very strong, physically prepared and his pugilistic knowledge.' Muñoz laid one out before the police arrived and eventually detained him, leaving him in custody and under a restraining order, Guti with bodyguards and some poor sod to clean up the blood at Valdebebas, while the headline writers gloried in Madrid's unimpressive but devastatingly effective 2-0 win in Santander: a victory that, according to both Marca and AS, demonstrated Madrid have 'the knock-out power of a champion'."
Click here for more Premier League betting tips
---