FA rejected Guardiola's application to become England boss because he was Spanish [Mail on Sunday]
The FA are being painted out to be Little Englanders on the backpage of the Mail on Sunday under the screaming headline:
England Said 'No' To Pep – FA turned down the best coach in the world… because they wanted an English manager.
The Mail's article is slightly misleading as the assumption borne out from the headline leads readers to believe that Pep Guardiola was hungary to become the new England manager. That fact however is never made by Nick Harris' piece, rather the article focuses on the FA's stubborn decision to only appoint Englishman as the national team's manager.
Nick Harris wrote:
The Football Association turned down the chance to interview Pepe Guardiola for the England manager's job last year, appointing Roy Hodgson instead having made a policy decision to hire an English manager.
The revelation will stun many fans because Guardiola, 42, is viewed as one of the world's best coaches… Sources sat Guardiola was interested in talking to the FA when Fabio Capello resigned in February last year and an intermediary contacted the governing body to let them know.
It is understood a message was sent to Guardiola by the FA that the new man would need to be in place for Euro 2012, but the FA did not follow up further with him. The insider says the FA were contacted by representatives of multiple 'top managers' but only English candidates were considered seriously.
The narrative being spun by the Mail suggests that the FA followed a cock-eyed recruitment policy rather than choosing the best man for the job. In the corollary, the article paints Roy Hodgson out to be something of a second-rate manager.
A copy of the Mail on Sunday's backpage is below.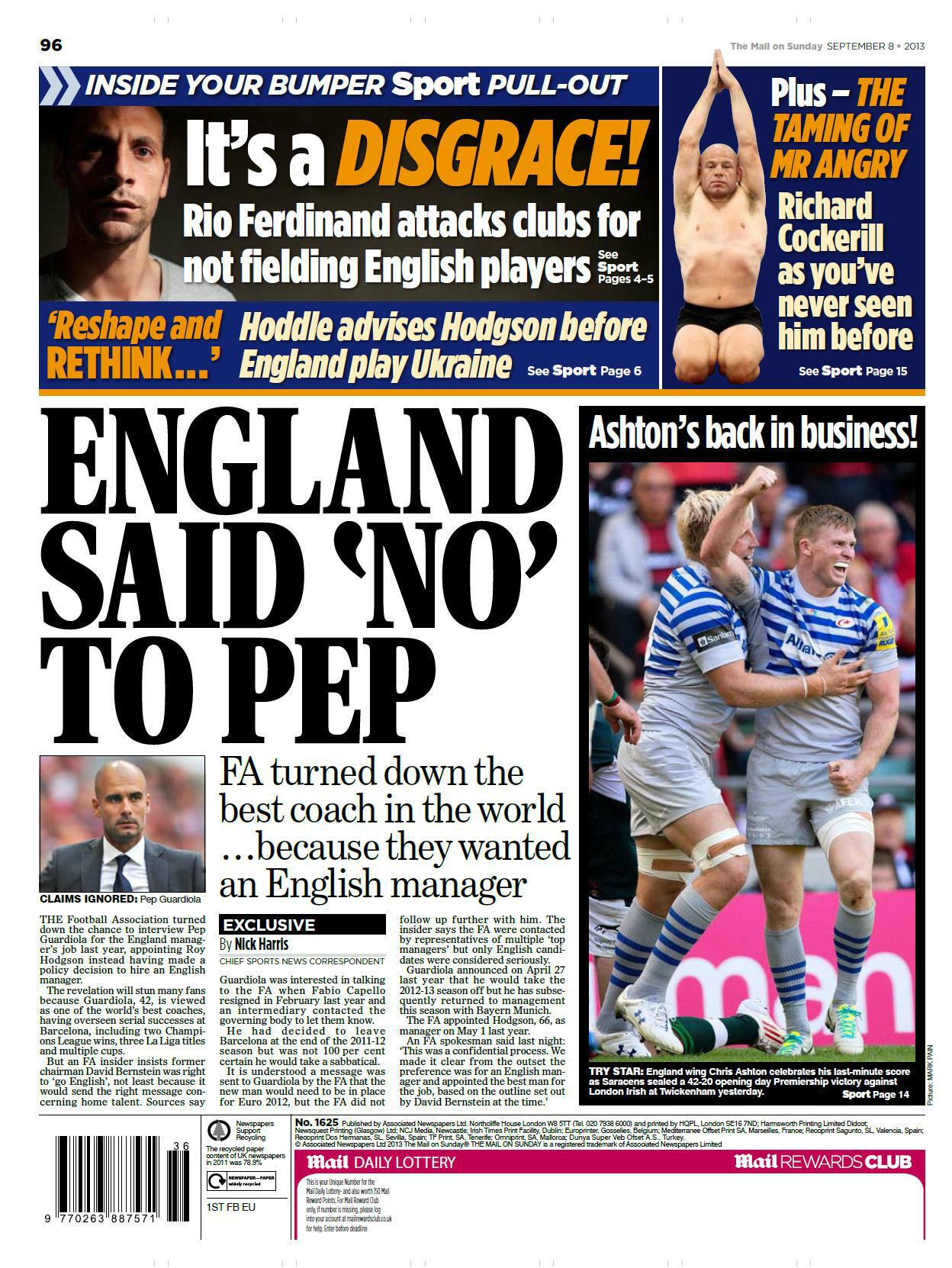 ---