The Case of Cesc: The grass isn't always greener on the other side

By Paul Morrissey, in Madrid (Follow on Twitter here)
"Loaned" to Milan? Seriously? This wasn't part of the plan. Unlikely as that eventuality is, the very fact such a rumour could be fabricated says much about how derailed Cesc's long-awaited return to Barcelona has become.
He's sitting on the bench. A lot. Too much, surely, for the youngest ever Arsenal captain and World Champion.
And yet, Second Life back at Barça could only have started better if he'd scored some self-fulfilling premium dreams from the BFG. 12 goals and 7 assists, the bulk of which came consecutively in his opening games, making himself right at home as the Pichichi pace-setter. Striking up, or rather, rekindling, a telepathic understanding with mejor amigo Messi, he was on fire at the tip of the diamond in Pep's experimental 3-4-3, that which will be forever synonymous with Cruyff's Dream Team.
"The anarchy of Cesc works well for us, he moves to the left and to the right, he has vision and he works hard." (Pep Guardiola after an 8-0 win over Osasuna, September 2011)
Welcome as the 'anarchy' referred to by Pep was, it could never compensate for his neurotic obsession with possession, which is much easier retained with the 4-3-3, dictated from the middle by toque experts Busi-Xavi-Iniesta. Thus the eventual return to the tried and trusted 4-3-3 meant Cesc was cast out to the left of the front 3, as an auxiliary extremo.
Unsure of exactly what his remit was, he buzzed and improvised as he could, but the goals, the assists, and the protagonismo on which he so thrives dried up. Marooned and left to his own devices, he'd drop back in search of kicks, only to find Messi in full control of proceedings in his much-lauded 'false 9' role. His season petered out in a listless frustration. Bring on the Euros.
Because if there's one tecnico who understands how best to exploit Cesc's papel, it's the Ilustrísimo Señor Marqués of Vinny Wood. If Del Bosque was the only man in Spain who could see sense in defending a European Championships without a striker, much of his faith derived from his conviction in Cesc, the man and the player.
His trust in him as a man was exemplified in the penalty shoot-out against Portugal. Cesc told him he'd had a premonition that he'd score the fifth penalty, just as he had against Italy four years previous. If it was anyone else he'd have probably called for the men in white coats. He took his word for it. Gol. Final. Anarquia.
As a player, Del Bosque admires most his llegada (arrival) which is vital for the 'no striker' system to work: his almost preternatural instinct to arrive into the box in the money time, to make that run and to latch onto that through ball. And, claro, to finish. That's his other Top Trump over two of the three players (Xavi, Iniesta, Messi) he's currently competing with for a position in the Barça side : he 'has' goal, as they say in Spain. Scoring 30 goals in one season as an attacking midfielder and maximo goleador at the U-17 World Cup (2003), he has that innate gift to find the back of the net . (But as has been seen recently, it's one predicated on confidence.)
A lethal complimentary pair of assets then that have found their niche within La Roja, but with the Manita now Barça's official calling card, goals aren't exactly in short supply. And Messi.
Nonetheless, coming off the back of a successful Euros which reminded him of his worth and need for protagonismo, the 2006 Golden Boy was fresh and ready for a clean slate with Tito Vilanova.
"There were times when I was a little lost last season, it wasn't clear what I had to do. I'm looking forward to the new season with Tito, who I know since I was a kid with Barça youth teams."
Not quite heresy of the Church of Pep, but suffice to say few tears were shed in the casa de Fabregas at the managerial change. Word on Las Ramblas was that Tito was going to play a more expansive, attacking game to the Pep's possession project.
So far he arguably has, but it's Busquets who's been the beneficiary, unshackled from his 5m² zone and given more leeway to cut loose and get forward, with Xavi dropping back to fill in. No dice for Cesc.
"Cesc's return is going to be a great day for Catalanismo" (Victor Valdes)
It all calls into question the why of the transfer in the first place. The protracted negotiations for a player and €29 million fee for a player who clearly wouldn't just be walking into the team seems now more like the repatriation of stolen goods than a necessary football transfer. A bit like the US' extradition battle of Assange, it was a matter of principle more than practicality. Because nobody really gives a baker's fuck if Obama got loose in the green tent or not. A matter of principle.
"Moltes gràcies for raising our boy, Uncle Arsene, but we're taking him back now."
Puyol, Valdes, Xavi : everybody lobbied for his return, but did so as much out of loyal friendship as for footballing reasons – the transfer came on the back of possibly his worst season for Arsenal, defined by that effete back-heel assist on the edge of his box against his boyhood club ; his heart was always in the Camp Nou, now his head was.
He was seduced by the romance of it, as was the institution by the symbolism of it; and now he finds himself tweeting on the bench.
As he's said himself, some perspective is needed to temper the "campaign" that's steadily growing against him. After all, he's not competing with Tomas Rosicky or Theo Walcott for a spot : he's up against the three best players in the world in their positions (Xavi, Iniesta & Messi; he could technically do Busquet's job but his predisposition for anarchy would out).
If patience doesn't come naturally to him, he's going to have to develop it, because he may just need to await the retirement of maestro Xavi before he has a place to call his own. Ironically, Xavi can be his inspiration in this. Today we bow at the excellency of Xavi, and we forget he was an unused sub in the Paris Champions League final against Arsenal. and that his destiny was far from a smooth Yellow Brick Road. He was seen as physically weak next to a beast like Van Bommel, and limited; just a 'passer'.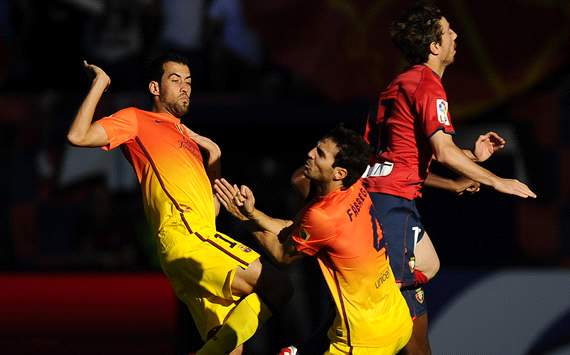 He'd wanted out under Van Gaal, but he sat tight and bode his time, knowing it would come. He's done half the job for Cesc : all he has to do is wait. Whether he is willing to is another thing.
While he's doing so, it's likely he'd keeping an eye on life back at Arsenal, and purring over the thought of partnering fit-again Abou Diaby, as an anarchic protagonist in the Gunners midfield. Trophies or protagonismo ? The grass ain't always greener on the other side.
---
GAMBLING CAN BE ADDICTIVE, PLEASE PLAY RESPONSIBLY