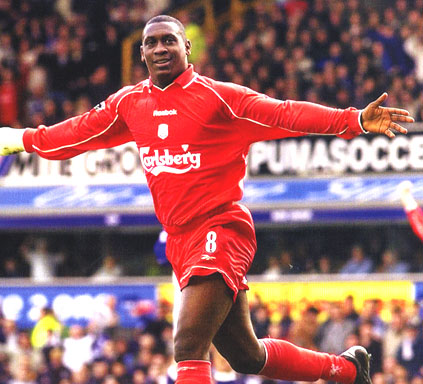 International football is finally dead. Club football returns. Hurrah!
The two week break disrupted momentum as clubs ground to a competitive halt, but depending on the start each club furrowed in the early stages of the season, the disruption could either be a blessing or a curse. Teams on the slide will be hoping to have regrouped, re-focused and mentally toughed up their game. While the sides leading the way will demand that they continue in kind and plow forward heading into the new year.
Liverpool v Wigan
Two weeks ago, if you were asked which of Liverpool or Wigan had the better strike-force the answer would have been a no-brainer. But heading into Saturday's clash at Anfield, Wigan have a strong case for posing the bigger goal threat of the combatants.
There is no coincidence that Emile Heskey's unlikely return to the Reds has been mooted on the eve of Latics' visit to Merseyside. But following accomplished shifts against Kazakhstan and Belarus, Bruce's number nine demands respect. Provided Amr Zaki plays, supported by Palacios and Valencia, Wigan fans have reason to believe their side can get something from the game.
International-victim Benitez will simmer on the touchline, robbed of Torres or Babel, and hoping Robbie Keane's solitary strike was proof of things to come rather than being his token contribution. Much hope will rest on centurion Gerrard, but with a strong defensive foundation the Reds will unlikely be beaten on home soil.
101 Predicts: Liverpool 1 – Wigan 0
Hull v West Ham
For the first time, Hull have to handle the expectations game in the Premier League.
All the omens point to a home win. Sitting third in the league, the Tigers are unbeaten in four. Phil Brown won September's manager of the month award. And against three London teams so far this season (Fulham, Arsenal and Tottenham) Hull have emerged victorious. So the bankrupt Hammers will be easy pickings, right?
Gianfranco Zola will be praying that's not the case, but after watching his side rumbled by Bolton last time out, the Italian's confidence is probably as high as his stature. The silver lining for the claret and blues will be is they can finally, after 19 games, shut up shop at the back. Provided they remain disciplined in defence, they will most likely score up the other end, being the league's second highest scorers.
101 Predicts: Hull 1 – West Ham 1
Stoke v Tottenham
19th, with a two point advantage, takes on 20th on Sunday, and should Spurs lose then the Lillywhites will be cut at least three points adrift at the bottom of the table. Its crisis time at Spurs.
Having hidden away any plan B (if it exists at all), Stoke will likely serve up their predictable plan A set of tactics, i.e. hope either a kick and rush move or a Rory Delap throw-in leads to a goal. But write off such tactics at your peril, as they have formed the bread and butter of many a struggling Premier League's arsenal, and a confidence-dried Tottenham will not relish a series of high balls torpedoed into their box for 90 minutes.
Whether "one-game" Ledley King features depends on whether Ramos wants to use the play the centre-back in the UEFA Cup on Thursday, but his absence could seriously expose the underperforming Dawson. Up top, the headaches have been eased slightly with Pavlyuchenko's absense, meaning that Darren Bent will lead the line.
Losing at the Britannia will not condemn Juande Ramos in-and-of itself, but it will evidence the gravity of their dogfight which even Michael Vick would have avoided.
101 Predicts: Stoke 2 – Tottenham 2
Ajax v FC Groningen
Groningen are the surprise team so far in the Eredivisie. The side from the north is still unbeaten after five matches and the clash with Ajax is a perfect opportunity for them to show how far they have come.
Ajax have had a poor opening to the season and they are now in 10th place after being trashed by Heerenveen in their last game.
Both sides field hot-shot strikers, with Klaas-Jan Huntelaar fordced to share the limelight with Groningen's Marcus Berg, around whom there has been a lot of speculation in recent weeks about a possible move in January.
101 Predicts: Ajax 2 – Groningen 1
Atletico Madrid v Real Madrid
Atletico Madrid will try to overcome Real Madrid for the first time in nine years when the two city rivals meet on Saturday. Atletico, who were humbled in a 6-1 defeat at Barcelona in the last round, were also hit by the latest news of a two match stadium ban in the Champions League.
"They are like a wounded animal," said Real's experienced right back Michel Salgado. So we should expect a highly interesting, combative match in the Vicente Calderon.
For Real, Mahamadou Diarra, Arjen Robben and Guti are in doubt as a result of injuries and probably won't play. Veteran captain Raul is enjoying a return to form, having scored four goals and recorded two assists thus far.
On the other side, Javier Aguirre hopes that the return from injuries of Diego Forlan together with midfielder Simao Sabrosa will help his team against the champions. Maniche, Maxi Rodriguez and Pablo Ibanez are in doubt. So Atletico's central defence will probably be comprised of John Heitinga and Tomas Ujfalusi.
101 Predicts: Atletico Madrid 1 – Real Madrid 3

Click here for more Premier League betting tips
---