Following all the drama of the Champions League semi-finals (and the UEFA Cup), we move on to domestic football and this week sees a crucial Manchester derby, yet another top of the table clash in Germany, a cup final in France and the small matter of AC Milan-Juventus on Sunday night.
Manchester United v Manchester City, Premier League, May 10, 2009
Following their swashbuckling performance at the Emirates, arguably every bit as good as Barca's 6-2 win in the Bernabeu, Manchester United return to Old Trafford to face their local rivals with the Premier League title in sight.
If Liverpool continue to win all their remaining games, United need seven points from 12 and this game will take on extra importance if Rafa Benitez's side win at West Ham on Saturday.
United are simply purring at the moment with a large squad of players who are all performing well. Cristiano Ronaldo was the match winner in the quarter-finals and semi-finals of the Champions League and Ji-Sung Park has scored two in the past two games.
After a small blip a few weeks ago, the Red Devils defence now looks like the one that didn't concede a goal for so long earlier this season and Sir Alex Ferguson has an embarrassment of riches at his disposal.
Thankfully for City, Mark Hughes and Rafa Benitez, the blue half of Manchester have reason to be positive going into this game. Since their exit from the UEFA Cup at the hands of Hamburg, City have recorded three wins and Robinho has scored in each game.
Alongside the Brazilian in midfield is Stephen Ireland who has had a stunning campaign and the likes of De Jong and Kompany bring a great deal of solidity to this City side. Crucially, they also have something to play for as they chase a Europa League position which would give Hughes and the men from Dubai something to cling on to for next season.
For those that believe this could be a comfortable win for United, the corresponding fixture last season, which City won 2-1, was also considered to be a home victory waiting to happen as it marked the 50th anniversary of the Munich disaster.
In February 2008, United struggled against their local rivals and this promises to be a close match-up as the game at Eastlands was earlier this season. City did the double over United last season and whilst they won't repeat the feat, if they can gain a point or more at Old Trafford they will put a major dent into the United title challenge.
101gg predicts: Manchester United 2 – Manchester City 2 (22/1)

Full match odds here.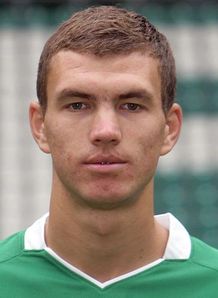 VfB Stuttgart v VfL Wolfsburg, Bundesliga, May 9, 2009
At the winter break, Vfl Wolfsburg and Vfb Stuttgart were only ninth and 10th respectively in the Bundesliga table. But an outstanding second half of the season, with one defeat each, pushed them into the championship race. And now, Wolfsburg lead the table and travel to Stuttgart in a match that will be crucial for the outcome of the league.
The author of the Wolfsburg success story has been Felix Magath, who confirmed this week that he will be leaving the club by the end of the season for Schalke. With four matches remaining to be played this season, Magath's declaration might have a bad impact on his team, who hold a three point lead over defending champions Bayern Munich.
Despite all this, Wolfsburg is still the best attacking team in the Bundesliga. The strike force of Grafite (23 goals and the league's top goal scorer) and young superstar Edin Dzeko (pictured) (19 goals) is an amazing one. This pair of target strikers managed to form a lethal combination, with attacking midfielder Zvjezdan Misimovic just behind them.
Misimovic is a player worth profiling. The 26-year-old Bosnian midfielder is an extremely creative playmaker, who has scored nine goals and created no less than 18 so far, already a Bundesliga record. His ability to put a striker in front of goal with one touch is incredible – and if he will be in good shape again, Stuttgart will have a very hard time in defense.
But Stuttgart has its share of offensive tools as well. Markus Babbel's side is playing a different 4-4-2 formation than Wolfsburg, without an attacking midfielder in the center but two central midfielders who are box-to-box players and two wide players. So much more responsibility falls on the strikers.
Mario Gomez, with 19 goals so far, is having an excellent season and his ability to take on defenders and create situations for himself is extremely important for the team. But the second striker, Brazilian Cacau, has scored only five goals this season putting even more reliance on Gomez.
Overall we are in for a showdown between two great offensive teams. Anything can happen, but if the Wolfsburg players can maintain their focus despite their coach's declaration this week, the Bundesliga leaders can win this one. The attacking combination of Misimovic, Dzeko and Grafite has proved to be unstoppable this season when all three are in fine form.
101gg predicts: Stuttgart 1 – Wolfsburg 2 (10/1)

Full match odds here.
Stade Rennes v En Avant Guingamp, Coupe de France, May 9, 2009
This weekend there are no Ligue 1 games due to the final of the Coupe de France which sees two teams clash for a place in Europe next season.
The last time Rennes was in the final was back in 1971, when they won in the final 1-0 against Lyon. This was the second time they had claimed the trophy with the previous victory coming six years before. For the "Red and blacks" this is there first time in the final.
Injured Rennes striker Jimmy Briand, who is suffering a season-ending knee injury while on international duty in late March, will be his team mates biggest supporter for the game: "I won't be on the pitch, but I hope to fully experience the final and be alongside the rest of the squad," said the 23-year-old forward who has already begun working his way back to fitness after undergoing surgery on ruptured knee ligaments.
Briand will not be the only one absent for this game, Rennes defensive midfielder Kader Mangane will be suspended due to his brutal tackle against Jonathan Lacourt in March. Rennes will need their 23-year-old striker Moussa Sow (pictured) to continue his good form, but he also knows that the absentees can cause them troubls: "Jimmy helped get us to Paris," said Sow. "We'll miss Kader, too. The fact that they'll be there at the Stade de France is a bonus. That's going to make us doubly determined."
Guingamp has the sixth largest budget in Ligue 2 this season. In this team, there are a lot of experienced and ex-Ligue 1 players such as Wilson Oruma, Lionel Mathis, Badara Sene, Yves Deroff, Stephane Trevisan and Christian Bassila. The most talented players are Mathis, Oruma and above all Eduardo. This Brazilian striker is the star of the team. Several Ligue 1 clubs want to recruit him for next season including Sochaux, Nancy, Nantes, Auxerre and Valenciennes.
Richard Soumah, Francois Bellugou and Bakary Kone are also young promising players. They have also been watched by Ligue 1 clubs.
Guingamp play in a 4-2-3-1 system with one forward (Eduardo), two players on either wing (Ogunbiyi or Gilson Silva on the right and Soumah or Gilson Silva on the left), one central offensive midfielder (Oruma) and two defensive midfielders (Mathis, Colleau or Bellugou). Guingamp are a very technical team, who use their speed on both sides of the pitch.
They are almost at full strength, only Geoffrey Christophe (knee) and Igor Djoman (knee) will be absent for the game on Saturday
The total allocation of 80,000 tickets has been sold out, with Guingamp and Rennes allocated 21,000 tickets each. The remaining tickets go to French Football Federation partners and hospitality tickets.
101gg predicts: Rennes 3 – Guingamp 2 (33/1)
Full match odds here.
AC Milan v Juventus, Serie A, May 10, 2009
Milan and Juventus will end their campaign empty handed and without a title, but on Sunday night they will play one another for a second position in Serie A and the right to say that the season wasn't a complete failure.
Milan have traumatic memories of their visit to Turin in December. The Rossoneri lost 2-4, Zambrotta were sent off, Kaka injured and it was the match which really killed their Scudetto dreams. The coming weekend could be Milan's sweet revenge as a win will assure them second place and will heap further pressure on Juve and their coach Claudio Ranieri.
Since the return of star player Kaka, Milan has been on a fantastic run of seven wins from their last eight matches, an amazing stat that has even got tactician Carlo Ancellotti excited about the silky Brazilian star.
"We simply cannot do without Kaka" and Ancellotti added that "you can see how important he is to the side," as the Brazilian has scored four goals in the last three matches. But with all respect to Kaka, the star player for Milan in an outstanding run of great results has been Filipo Inzaghi. "Super Pipo" has claimed eleven goals in the last eight rounds, and he is in great form, only days before meeting his former club.
Carlo Ancellotti will play his "Christmas tree" 4-3-2-1 formation, with Ronaldinho set to start on the bench again due to the recent form of Kaka and Pipo, who will start since Pato is still recovering from injury.
Ranieri's days at Turin look numbered as the Italian coach failed to properly battle to the end for the Scudetto as three months ago they were close to leaders Inter. They have not won for seven matches and there has been endless speculations at Juventus regarding new signings and candidates for the coaches job next season.
The troubled Turin giants were clearly not quite right last week when they drew with Lecce. Mauro Camoranesi had a dressing room row with Claudio Ranieri and TV cameras caught Gianluigi Buffon saying "I can't take it anymore," leading to yet more transfer speculation.
If the reports are true then it is likely that Camoranesi will not play and Marchino will replace him. Sebastian Giovinco will start as a replacement for the suspended Pavel Nedved and Lagrottaglie or Chiellini could recover in time to play at the center of the defence, replacing the suspended Mellberg in Juventus' 4-4-2 formation.
101gg predicts: AC Milan 3 – Juventus 0 (14/1)
Full match odds here.
---