At the end of last weekend's domestic football there were many bemoaning the international break, now its upon us, following days with very little action, it is time to look forward to some cracking games. Scotland face a huge mission in Holland, whilst both Portugal and Sweden will be looking to get their qualification campaigns going after poor starts. Israel and Greece will likely play out a defensive minded game for high stakes whilst one of the most intriguing games of the weekend sees Iran host Saudi Arabia which has been billed by some as "a life-or-death match."
Netherlands v Scotland, World Cup qualifying Group 9, March 28, 2009
The task for George Burley's side looks ominous as they aim for a major result in Holland against a formidable side. It would be no exaggeration to suggest that Scotland could be on the end of a 6-0 battering as they were the last time these two sides met in November 2003.
Thanks to their fine opening to Group 9, three wins out of three, Holland will see this as a major opportunity to claim qualification for South Africa 2010. Bert van Marwijk's side can go eight points clear of the second placed team in the group with third placed Iceland having played a game more than anyone else.
Scotland are without a number of key players including James McFadden, Paul Hartley, David Weir and Kris Commons and their qualification campaign has been one of struggle so far, summed up by Chris Iwelumo's horrible miss against Norway. George Burley's side lost their opener to Macedonia and although they then picked up three points in Iceland, the home draw with Norway could come to haunt them later in the campaign.
The scale of the task facing this Scottish team is put into perspective when one considers that Christophe Berra is likely to make his first start for the national team. Whilst right back Alan Hutton may also begin the match, despite not having made an appearance for the Spurs first team since early November.
The Scotts do of course have some players who could cause a weak Dutch defence some problems. Darren Fletcher is in fine form and has established himself as a major member of the Manchester United squad and Scott Brown has arguably been the Player of the Year north of the border this season.
But, the strength of the Dutch squad is ominous, which it would be even for some of the best teams in the world. The attacking talents of Robin van Persie, Arjen Roben and Klaas-Jan Huntelaar could create and score goals against anyone.
RVP has been brilliant this campaign for Arsenal whilst Real Madrid have been accused of being "Robben reliant" at time under Juande Ramos. And Huntelaar can finish as he has proven with eight goals in his last six games for Real Madrid.
Holland however look weak in goal and as has been so often the case in recent years, in defence as well. The retirement of Edwin van der Sar has been a big blow, Maarten Stekelenburg has been dropped from the Ajax side and Feyenoord veteran Henk Timmer is likely to start and the 37-year-old is not the safest pair of hands.
The Dutch defence was the one clear weak link in Euro 2008 and the likes of Khalid Boulahrouz and Andre Ooijer remain defenders susceptible to mistakes. Whether Scotland will get in the opposing half to really test them will be the true test as the fear is that the talented Dutch attack will blow them away before they even get into the game in a repeat of the 6-0 hammering.
101gg predicts: Holland 3 – Scotland 0 (8/1) & First goal scorer Robin van Persie (4/1)
Full match odds here.
Portugal v Sweden, World Cup qualifying Group 1, March 28, 2009
We are set for an intriguing game between Portugal and Sweden since both teams have struggled in World Cup qualifying so far.
Portugal, the hosts, are in fourth position in the group with five points from four matches and have been especially weak at home, losing 3-2 to Denmark and drawing with Albania. Sweden are in fifth place, also with five points, but have played only three matches so far.
The first meeting between these two ended in a 0-0 draw and with both teams needing a win we could be set for an attacking game. Denmark lead the group on seven points from three games, followed by Hungary and Albania.
"We will have to play in the Portuguese style", said Portugal Coach Carlos Queiroz, "modern football with movement, speed, fantasy and creativity. These are surely arguments which will be difficult for Sweden to counter."
In the last friendly matches that Portugal played they yet again failed to turn their dominance into goals. The 1-0 win against Finland was secured thanks to a penalty after the team had failed to score from over 25 chances.
Since Ricardo Carvalho will be absent due to injury, Bruno Alves will probably be his replacement. The 27-year-old Porto defender is a strong central defender. Deco is also a doubt for this game after he picked an injury in Chelsea's home win against Manchester City. Hugo Almeida will probably start in attack and will be tasked with scoring the goals for Queiroz's side.
Portugal should be buoyed by the fact that Sweden's talisman Zlatan Ibrahimovic will be absent from their attack through suspension. Veteran Henrik Larsson is his replacement and despite his age, he can still cause problems to any defence.
"Portugal didn't have the best of starts", said Sweden's coach Lars Lagerback, "they must feel the pressure now they are playing at home."
101gg predicts: Portugal 2 – Sweden 1 (15/2)
Full match odds here.
Israel v Greece, World Cup qualifying Group 2, March 28, 2008
Euro 2004 champions Greece will battle Israel in a crucial European qualification group 2 match this Saturday.
Greece is leading the group with nine points, while Israel is just behind with eight points. The Ramat Gan Stadium will be filled with 40,000 spectators who will try to push Israel onto victory, hoping to achieve a place in the World Cup for the first time since 1970.
Israel is troubled ahead of this game, mainly due to the physical condition of Captain Yossi Benayoun. Liverpool's attacking midfielder has been trying to train for the last couple of days despite an injury, and if he doesn't play, Israel's hopes of winning will receive a huge blow. Benayoun is by the far the most important player of the team, and while he plays on the wings for Liverpool, he is the playmaker of Israel, playing a free role across the midfield.
Even with Benayoun, Israel is still underdog against Greece. After the retirement of Theodoros Zagorakis, the Greeks rely mainly on Giorgos Karagounis for creativity and playmaking skills. The entire burden, mentally and technically, lies on his shoulders. Israel might assign a personal man-to-man marker on Karagounis and by doing so, neutralize the Greek attack almost entirely.
Greece is a hard working, tough team with an excellent defense. Yet, its center backs – probably Traianos Dellas and Sotirios Kyrgiakos – are slow and have problems dealing with fast strikers. The Israelis know that their attackers must provide non-stop movement throughout the match if they want to embarrass the strong Greek defense.
Therefore, Israeli coach Dror Kashtan will start a 4-4-2 formation with emphasis on speed. Talented striker Barak Itzhaki, who is in magnificent form recently, will play as a winger with Benayoun on the other flank (if fit). Aviram Bruchyan, perhaps the most talented player in Israel, might also get his chance in the lineup if Benayoun does not make it. Together with the fast striker Elyaniv Barda, Israel definitely has the tools to make a surprise result.
Otto Rehhagel will play a 4-3-3 formation, which looks offensive on paper but his problem is the fact that all of his strikers are not in good form. Another problem for the Greeks is the presence of tall goalkeeper Konstantinos Chalkias, who has good aerial ability but suffers from a major lack of decent reflexes.
We should expect the Israelis to use Elyaniv Barda's long-distance shooting against Chalkias, trying to surprise the man who replaced Antonios Nikopolidis after the latter retired from international football.
With all these elements, we should see a good, fast football match in Ramat Gan on Saturday. The Greeks will definitely settle for a draw, as they host the next game against the Israelis, while the hosts know that any other result other than victory could mean the end of their World Cup hopes.
101gg predicts: Israel 2 – Greece 2 (16/1)
Full match odds here.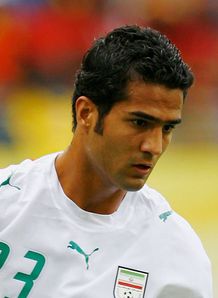 Iran v Saudi Arabia, 2010 World Cup qualifying, March 28, 2009
The power of historical rivalry will once again dictate a football match, when The Islamic Republic of Iran will host Saudi Arabia for a crucial World Cup qualifying match this Saturday.
The Iranians lie the third place in Group 2 of the qualification process, behind South and North Korea, while the Saudis are in fourth place, from which you cannot even dream of South Africa.
The matches throughout the history between the two rivals were always hot tempered. And the Saudis have developed a habit of building their qualifying success on Team Melli's failure. With the cold war between the two nations growing ever bigger by the day and the feelings of suspicion and religious disagreement between them, this crucial game on Saturday should be one of the hottest ever.
The fight between the two countries for regional dominance will be played, for one evening, on the football pitch of the Azadi stadium, filled with almost 100,000 fans.
While Iran managed to earn a valuable share of the spoils with a 1-1 draw in Riyadh last September, all three points are likely to be required this time around as two of Iran's three final matches will be played away against the Koreans. "This is a life-or-death match for both the Saudis and ourselves, and we need a win," said Mehdi Mahdavikia, who is expected to return for the crunch tie.
The Saudis, who have played in every World Cup since 1994, will have to cope with the absence of their talismanic frontman, Yasser Al Qahtani. The 26-year-old striker has been suspended from the squad by new coach Jose Peseiro for failing to appear at a training session.
Rumours in the kingdom suggest that Al Qahtani was arrested by the moral police following a wild night out which included alcohol. Al Qahtani has wrongly been accused of such things in the past so it is still early to say what will happen, but for sure the Saudi team will miss him on Saturday.
The Greens will also miss their second striker, Malek Mouath, who is injured. Defensive midfielders Khaled Aziz and Saud Khariri are in doubt, making the Saudis suffer from problems also in this position. But despite everything, the Saudis vowed to win this match and have refused to be interviewed throughout this week. In their final friendly game prior to this match, the Saudis failed to impress and managed only a goalless draw against Iraq.
Saudi coach Peseiro will probably go for his preferred 4-5-1 formation, with the aim of using his influential attacking midfielders to cover for his lack of strikers. A player to watch in the Saudi team is midfielder Mohammed Noor, who can play either as central midfielder or as a winger. On Saturday Noor will probably play in the centre, trying to direct passes to his team mates and to control the pace of the game.
Daei is expected to play a 4-2-3-1 formation, with Javed Nekounam and Hossein Kazemi as the defensive midfielders with the aim to cancel out the Saudis main strength, their attacking midfielders. A player to watch in the Iranian team is playmaker Masoud Shojaei, who is having an excellent season in the Spanish league with CA Osasuna.
101gg predicts: Iran 2 – Saudi Arabia 1 (15/2)
Full match odds here.
---