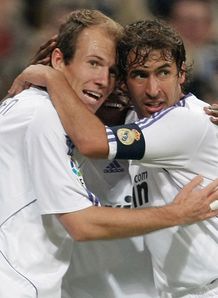 With the FA Cup dominating English football this weekend (odds here) it is to the continent where we could see some of the best football. The Madrid derby promises to be a cracker, whilst the Turin derby and Inter's visit to Genoa look like great games on paper. There is also the small matter of an African Nations Championship Final on Sunday.
Real Madrid v Atletico Madrid, La Liga, March 7, 2009
It is now 10 years since Atletico Madrid last beat their bitter rivals in a derby match. As for the second week running they face off against a title challenger looking to change the situation at the top of the Primera Division.
After Real Madrid managed to close down the 12 point gap at the top of the league to just four points behind Barcelona in recent weeks, Juande Ramos' side will look to continue their momentum against the side that beat Barcelona last week in an incredible match.
Real's 10 match winning streak has been built mainly on their strong defensive ability, seeing them concede only twice during that run. This factor will be extremely important on Saturday, as the home defence will try to stop Sergio "Kun" Aguero and Diego Forlan, who are both in excellent form. At the other end of the pitch, Real, including the likes of Higuain, Huntelaar and Raul will all be eager to score against Atletico's notoriously poor defence.
Atletico's fire power up front will find itself against a home defence without Portuguese international center back Pepe, who is suspended for this match. Sergio Ramos will probably start alongside Fabio Cannavaro, as the Spanish defender is fast and will need to help the Italian to cover Aguero's velocity.
So Forlan and Aguero might be able to take advantage of the fact that Ramos and Cannavaro have not played many times together as a central defensive partnership.
But the biggest mission for Atletico will be to try and maintain a reasonable defence this time. With Thomas Ujfalusi in very bad form, the disappointing Antonio Lopez, John Heitinga who cannot live up to expectations and Pablo Ibanez, who has also been unimpressive this season, the midfielders will have to give them some major help against Real.
Gonzalo Higuain will play an important role for Real, and he knows that this match is extremely important for his team: "It's true that it is not easy to win ten games in a row and what we are doing now is very commendable but nobody will remember this if we don't win the title come June."
And if Higuain and his team mates can take advantage of Atletico's weaknesses in the defence, a win for the Blancos can be achieved.
101gg predicts: Real Madrid 3 – Atletico Madrid 1 (11/1) & Raul to score and Real Madrid to win (11/5)
Full match odds from 888sport.com here.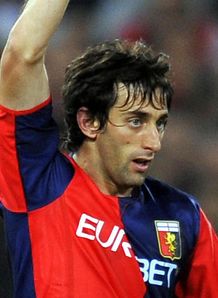 Genoa v Inter, Serie A, March 7, 2009
With Inter seven points ahead of second placed Juventus and with a Champions League second leg clash at Old Trafford to come next week, they face a tough match away at Genoa who are amazingly unbeaten at home this season.
Can Inter keep their promising lead towards the Scudetto, or can Genoa maintain their Champions league qualifying hopes of fourth place and re-open the Serie A title race?
Genoa have claimed eight wins and four draws at home and also claimed a point against Inter in a 0-0 draw the last time the two teams met at the San Siro. So Gian Piero Gasperini 's players should have the belief that they can beat the Nerazzurri , especially on home turf.
Gasperini will be without Matteo Paro and Antony Vanden Borre, but otherwise he will have a full squad at his service. Genoa will keep playing the same flexible 3-4-3 formation that has been successful up until now.
Inter have had an intense week, with tons of criticism thrown at them, from all over Italy, for their comeback at home against Roma, with claims that they are favoured by referees in Serie A. Coach Jose Mourinho has had to face the media not only about those claims, but also about Inter's possible Champions League elimination next weekend in England.
Mourinho will be aware that his side will not have it easy at Genoa, reportedly the Portuguese manager was highly impressed with Genoa's organization earlier on in the season.
The Nerazzurri will miss Walter Samuel and Patrick Vieira, but other than that they will have a full squad. Inter will continue playing Mourinho's 4-4-2 diamond shape formation with two clinical strikers in Ibrahimovic and Adriano up front hoping to claim a precious win.
Keep an eye on: Two of the most talented, dangerous goal scorers will face one another. Zlatan Ibrahimovic and Diego Milito may play together next year as inter are reportedly preparing a massive bid for Genoa's Argentinean striker.
101gg predicts: Genoa 2 – Inter Milan 1 (10/1) & Diego Milito first goal scorer (11/2)
Full match odds from 888sport.com here.
Torino v Juventus, Serie A, March 7, 2009
The city of Torino have seen 224 derbies overall, with Juventus winning 88 of them, Torino claiming 74 victories and 62 matches ending in a draw. The tension will be high, but the morale at Torino's side is high, especially after coach Walter Novallino stated he will give up his monthly wages if they will win this game.
Tornio are undefeated in seven successive matches and even though six of them ended in draws, they have moved up the table away from the relegation zone.
However, their statistics in the derby are poor with their last win over "The Old Lady" coming in 1995. And they have not scored a goal against Juventus since Benoit Cauet's goal in 2002. Novallino can be expected to play his 4-4-1-1 formation which has impressed in recent games.
For Ranieri, this is a crucial game as the gap between themselves and Inter is now seven points, down from nine before the start of play last weekend. With Inter away at Genoa earlier on Saturday this could be a crucial few hours in the race for the Scudetto.
The importance of this derby is only heightened for Juventus by the fact that the second leg against Chelsea in the Champions League is just days away and how Ranieri juggles his squad will be a real test.
Ranieri will have to manage without the banned Nicola Legrottaglie, but will likely play his classic 4-4-2 formation with the recovering Davide Trezeguet likely to push Amauri to the bench.
Keep an eye on: Torino's Ignazio Abate is a great talent, the 22-year-old midfielder was a squad member of the Italian national team at the Beijing Olympic Games. Abate is very fast, a right flank player with very good technical ability and crossing, and he will provide a difficult game for Juventus left back Christian Molinaro.
Juventus' Momo Sissoko is in great shape and he really gives balance and stability to the "Old lady" midfield with some great performances.
101gg predicts: Torino 0 – Juventus 2 (9/1)
DR Congo v Ghana, The African Nations Championship Final, March 8, 2009
The Leopards of DR Congo will clash with Ghana's Black Stars at the African Nations Championship final on Sunday. The competition is designed exclusively for local based players and Sunday's final will enable scouts from around the world to watch some up and coming stars in action.
Perhaps the most promising player in this tournament is DR Congo's striker, Tresor Mputu. The 23-year-old striker of TP Mazembe is an excellent prospect for the future, with elegant technique and decent pace enabling him to be extremely useful as a supporting striker.
In early 2008, he almost joined Arsenal in England after a trial stint. "I impressed during the trials, but some contractual problems stalled the move. I am still eyeing a move to Europe, possibly in summer," Mputu said.
Charles Asampong Taylo, who is gradually rediscovering his old form, is the brightest talent on the Ghanaian side. The 27-year-old striker, a player with massive talent, was out from the game for a year following a severe injury back in 2007, but seems to be back at full fitness now.
His dribbling, adaptability on both wings and massive influence on the team are clearly noted. Taylor now looks set for a move to European football, and he could be an excellent deal for clubs from the second caliber in Europe.
Another player to watch on the Black Star's roster is the talented right back Samuel Inkoom, who is playing not like a 19-year-old but as a calm and experienced player. His crossing ability has improved a lot recently, and with his natural strength, positioning and speed, he's an excellent candidate for European football in the very near future.
Left back Afful Harrisson is also impressive, and this player is already in Europe after signing with Dutch side Feyenoord.
Ghana already beat DR Congo in a group stage match, by a result of 3-0. The two teams play attractive, attacking football and we can expect to see a match of real quality on Sunday.
101gg predicts: DR Congo 0 – Ghana 1
---