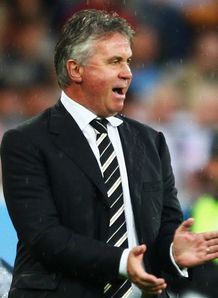 A Saturday of Premier League action that sees all the top five teams in action kicks off six straight days of football which include some of the biggest games of the season. Villa-Chelsea tomorrow is crucial for both Guus Hiddink and Martin O'Neill as Real Madrid look to keep up the pressure in Spain and the top two in both Austria (returning from the winter break) and Egypt battle it out in the coming days.
Aston Villa v Chelsea, Premier League, February 21, 2009
It hasn't been an easy week for Aston Villa. On Sunday they were knocked out the FA Cup by a battling Everton side and the 1-1 draw against CSKA Moscow in midweek has left their European hopes this season hanging by a thread.
Nevertheless, there is no disgrace losing at Goodison Park which is becoming a really tough place to play and Villa's incredible away record in the league (seven successive wins) should give them enough hope for the away leg next week in likely freezing conditions.
Regardless of the cup results, this game against Chelsea is one of the biggest matches for Aston Villa in recent history. Prior to Villa's cup woes and the arrival of Guus Hiddink, this game was starting to look like a home banker but it now looks finely balanced, especially as Chelsea's part-time manager might preserve resources of his own ahead of the clash with Juventus in the Champions League.
Arsenal will have a keen interest in the outcome of this game since if they beat Sunderland at home we could well be looking at a three-horse race for two Champions League places. Just two points separate Villa and Chelsea with the Gunners five behind their London rivals before the start of play.
With the Premier League title race becoming a procession of clean sheets for Manchester United, some will celebrate this battle for third and fourth but there is a nagging suspiscion that Villa could be the team to be left aside which is why this game is so crucial.
Martin O'Neill's side have struggled at times at home, drawing six games and it is a measure of their progress this season that if they could break down teams who come to defend at Villa Park they would be challenging United for the title.
Whoever is in charge of Chelsea, the Blues are always defensively tight, they have conceded just 15 goals this season, the second best record in the Premier League and will be fired up to impress their new manager.
Reports in the press earlier this week, suggested Chelsea will start with Drogba and Anelka up front in a 4-4-2 with Michael Mancienne playing alongside John Terry to deal with the pace of Gabriel Agbonlahor and Ashley Young. Mancienne was impressive at Vicarage Road last week at right back and hat-trick hero Nicolas Anelka should be full of confidence.
Similar to the 2-2 draw between Villa and Arsenal earlier this season at Villa Park, this should be a high octane clash which the Premier League seems to specialize in.
Chelsea put in arguably their best performance of the season to see off Martin O'Neill's side 2-0 in October and despite the changes at the club in recent weeks will still feel they can beat anyone.
However, Villa have a major chance to take a great step towards Champions League qualification, but will they have the energy and verve to gain a crucial result after a troubled week?
101gg predicts: Aston Villa 2 – Chelsea 1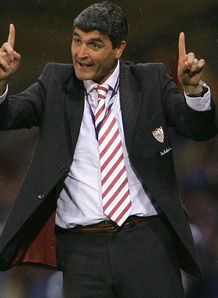 Real Madrid v Real Betis, Primera Division, February 21, 2009
Real Madrid, who are on an eight-match winning streak, hosts improving side Real Betis for a likely fiery match at the Santiago Bernabeu this weekend.
With the clash against Liverpool in the Champions League just around the corner, Juande Ramos will probably rest key players Arjen Robben and Wesley Sneijder, who both missed the last win against Gijon due to minor injuries. Influential midfielder Guti has finished his rehabilitation from a torn calf muscle and will probably get some playing time against Betis, ahead of the Liverpool match.
Ramos knows that a win against Betis, who drew with La Liga leaders Barcelona 2-2 on Saturday night, can bring his side right back into the championship race. So despite missing some players, this game is extremely important for the champions.
But Betis will be no pushovers. The fast improving team is also missing some players but proved against Barcelona that it is capable of playing a great tactical game when needed – the exact style of play they will need to perform against Real.
For the Verdiblancos, who are 15th in the table – five points above safety – this is an extremely important match. A loss, and Betis would find itself sucked into the relegation mix.
They will probably play a 4-5-1 formation trying to stop Real's wingers, the same tactics they deployed against Barcelona. Talented right back Nelson is set to return from suspension, trying to close the right flank which was utterly open for Iniesta in the Barcelona match.  A crucial point will be whether center back Juanito, who was injured against Barcelona, will play or not as Brazilian defender Lima is now expected to be out for two months now.
Perhaps Betis' most important player in this match will be central midfielder Achille Emana. The extremely strong box-to-box midfielder will play just in front of Mehmet Aurelio, and will have to provide a good attacking game in order for Betis to create any threat against Real.
The strength of mobility of Emana is of the highest caliber and a good performance from him can change the match. Betis will also need Brazilian striker Ricardo Oliveira to be fully concentrated, as he missed some good chances against Barcelona, chances that will not come easily at the Santiago Bernabeu.
101gg predicts: Real Madrid 3 – Real Betis 1
RB Salzburg v SK Rapid Wien, Austrian Bundesliga, February 21, 2009
The Austrian Bundesliga is back after more than two months of a winter break and it is a mouthwatering clash first up. The Red Bulls will meet the champions and their closest rivals in the title race, Rapid Wien, in their first competitive match of 2009.
Salzburg are in the midst of an excellent season having claimed 14 wins and four draws in 21 games. Their star man is a player swiftly becoming a household name in Europe thanks to his incredible goal scoring exploits. Mark Janko is currently the top goal scorer in Europe, with an amazing 32 goals in 22 matches.
The home side lead the Austrian Bundesliga by four points and win for Salzburg would give them a useful seven point lead over their opponents with a game in hand. If no one finds a way to stop Janko, a fifth championship for the club looks like a real possibility.
Alongside Janko, Robin Nelisse has also been in great form, with 10 goals to his name this season and both strikers have ensured that Salzburg have scored the highest number of goals (57), in the Austrian league.
As would be expected from the second best team in Austria, Rapid Wien also have an effective attack, with 55 league goals this season. Stefan Maierhofer is just behind Janko in the goal scoring charts with 19 league goals so far.
Maierhofer is a very physical striker (2.02m, 94kg) who uses his body well, he is excellent in the air and is a leader for Rapid Wien. Alongside him is Erwin Hoffer, 21, who has claimed 14 league goals and provided four assists in the first half of the season.
To add to the likely high number of goals in this game, the former Leeds United defender Martin Hiden is out with a thigh strain.
The first game between these two sides this season was won by just the one goal as RB Salzburg prevailed 1-0 thanks to Alexander Zickler, more goals seem likely in this one.
101gg predicts: RB Salzburg 3 – Rapid Wien 2
Petrojet v Al Ahly, Egyptian Premier League, February 22, 2009
After opening a five point lead at the top of the Egyptian table, champions Al Ahly will face second-place Petrojet in a crucial match that could decide the fate of the Egyptian championship this season. Ahly also have a game in hand that could help them extend their advantage to eight points as they seek to win a fifth consecutive league title.
Petrojet has been the surprise package of the league this season, showing attractive football and scoring 31 goals in 18 matches. Last season they finished fifth and this season they tried to mount a serious challenge for the title, but in their last match this week Petrojet suffered a stunning 3-1 defeat to second-bottom side Olympic.
However, Petrojet's coach Mokhtar Mokhtar still believes his team can surprise everybody, win against Ahly and grab the title at the end of the season. "Our defeat against Olympic doesn't mean that we are out of the title race," he said, "Yes our task (winning the league) is difficult but I still believe we can achieve it. Ahly are a great team but we will focus on claiming all three points."
Mokhtar will probably have to cope with the absence of influential and injured defensive midfielder Ahmed Shaaban, as well as injured central defender Ayman Ramadan. Petrojet will rely heavily on the striking force of 22-year-old Ghanaian starlet Eric Bekoe.
The young striker is showing excellent ability since joining Petrojet. He will be assisted by attacking midfielder/striker Cofie Bekoe, a versatile young dribbler with nice technique.
Petrojet lost their most influential player this season in January. Talented 24-year-old playmaker Waleed Souliman, who put in some dazzling performances this season, moved on loan to Saudi giants Ahly Jeddah. Now, Palestinian playmaker Mahmoud Samara will have to step in to his boots.
Ahly are coming into this crucial match full of confidence, after beating Arab Contractors 2-1 in the last round. Mohamed Abu Treika returned from injury to score the opener, something which is extremely important for Ahly's technical staff. Abu Treika has an almost magical influence on Ahly, and with him returning to his position behind the strikers, versatile Mohamed Barakat will move back to the right flank from which he can cause a great deal of damage to Petrojet.
It seems that if Petrojet wants to keep the Egyptian league interesting, they must win this game. But Ahly is in great form and with the return of Abu Treika, they are the favorites despite playing outside of the Cairo International Stadium.
We should expect a tough battle with some nice attacking football, as each team knows a victory is absolutely crucial.
101gg predicts: Petrojet 2 – Al Ahly 2
---
GAMBLING CAN BE ADDICTIVE, PLEASE PLAY RESPONSIBLY