High hopes for this weekend will center on Sunday's North London derby, a major test for Genoa's Champions League credentials in Italy, the top two facing off in Portugal and the Marseille-Bordeaux match in France.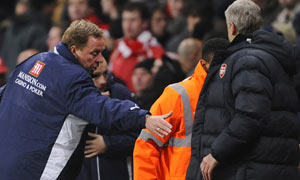 Tottenham v Arsenal, Premier League, February 8, 2009
Tottenham and Arsenal were the main protagonists on a final frenzied day of the January transfer window which says a lot about the current state of both clubs.
Spurs' problems have been well documented this season as their summer transfer policy left the club without a coherent attack which has since seen them return to former favourites Jermaine Defoe and Robbie Keane.
The mess that Commoli, Ramos and Poyet left Spurs in continues to affect the club who are just two points off bottom place in the Premier League. Their shocking away form under Harry Redknapp has also contributed to their current predicament – in all competitions they have lost their last six games on the road.
Wheeler dealer Redknapp has definitely brought more quality into the squad in January. Much of the focus will be on Robbie Keane who will be captain of the side against the Gunners on his return to the club and he could, on paper, dovetail nicely with the improving Roman Pavlyuchenko.
Wilson Palacios could also have a major part to play against the team he had a trial with before he joined Birmingham. Arsenal's midfield has struggled without Cesc Fabregas and the Spaniard has a great record against their north London rivals (eight games: five wins and three draws).
For Arsenal, much of the focus this week has been on the signing of the "Russian Pele," Andrei Arshavin. The former Zenit St Petersburg schemer is unlikely to play a part at White Hart Lane but due to necessity he could make a place on the bench.
It says a lot about the current state of the Gunners that they were so desperate to bring in Arshavin, in one of the most complicated transfers of all time. Arsenal are in grave danger of not finishing in the top four this season and if Aston Villa and Chelsea win on Saturday they could be eight points off a Champions League spot.
But, in Robin van Perise, the Gunners have a talisman who is in the form of his life and the fact he was rested last week against West Ham shows not only his importance to the club but also the fact that an injury could easily be a major blow for him and the club.
Tottenham haven't beaten Arsenal in the league since 1999 and they will likely come flying out the traps thanks to captain Keane.
Besides all the other reasons, Arsenal will be aiming to avenge the amazing  4-4 draw earlier this season which set the Gunners back for a few weeks and is a reminder to the days when Harry Redknapp was inspiring this Spurs side, in his first official game as manager.
Even without Arshavin, this game could well feature many goals as both sides go hell for leather for a crucial three points.
101gg predicts: Tottenham 2 – Arsenal 2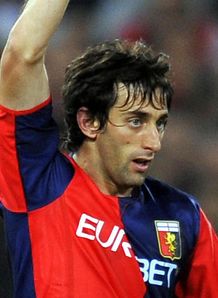 AS Roma v Genoa CFC, Serie A, February 8, 2009
AS Roma had a terrible opening to season 2008/2009, but they have fought their way back into the tight battlefor a Champions League place. This coming weekend they will meet fourth place and the surprise of the season so far, Genoa. Not many would have imagined at the beginning of the season that this match will be a tight head to head for the fourth, and final Champions league place.
Roma comes into the game with the upper hand, especially with the return of star captain Francesco Totti along with Mirko Vucinic, Julio Baptista and Simone Perrotta who was sidelined last weekend.
Except for Totti, not one of them is expected to be in the starting line-up, due to David Pizzaro's great form after Luciano Spalletti changed his position from a box-to-box midfielder to one of the two players behind the striker in Spalletti's 4-3-2-1 formation.
Roma usually play attractive and attacking football, but so do Genoa, so this should be a truly entertaining match at Stadio Olimpico.
Genoa are the surprise of the season, but they also have a poor record away from home, with 27 of the club's 40 points from their home games, where they are unbeaten until now.
But they are full of confidence as the club is unbeaten since week 12 of Serie A. On the defensive side, Mateo Ferrari is their key man, the ex-Roma player wants to prove his ability to the club he grew up in, and the club who released him.
In midfield Thiago Motta and Bosko Jankovic has the important role of the battling Roma midfield, and of course up front we will see the Serie A top goalscorer so far, Diego Milito.
Great clubs, a famous stadium and what should be a fine atmosphere combined with excellent players, two attacking minded teams and it looks like we are going to receive a match well worth watching.
The question is can Roma make the last step towards the fourth place and continue their progress or will Genoa continue to amaze us and really deliver a statement towards next year's Champions League campaign.
Keep an eye on Diego Milito and Francesco Totti. Milito takes on Francesco Totti in a right royal rumble between two of the top marksmen in Serie A. Totti has six goals from 11 games, and Milito has an impressive 14 goals in 18 appearances for the Argentine.
101gg predicts: Roma 3 – Genoa 1
Olympique Marseille v Girondins Bordeaux, Ligue 1, February 8, 2009
Two of Lyon's main challengers in France clash in a classic French fixture that could go a long way to telling us who can stop the current league leaders who have won the Ligue 1 title for eight consecutive seasons.
OM will host the game In the Stade Vélodrome but will not be the favorites, they are currently in 4th place, five points behind Lyon and four points back from Bordeaux. A defeat in this game could remove them altogether from the title race, since if they lose and Lyon win at Nice, Marseille will be eight points behind the champions. 
OM are struggling for form, in their last four league games they have lost twice, to Nancy and last week to Sochaux. "These two losses have hurt because they are closer in time", says Marseille's right-sided defender, Laurent Bonnart. "There was the desire but we lacked a lot of things. It's hard but it should work. We must be more demanding with ourselves. We must address what went wrong and put our forces forward."
For Marseille, arguably the player that brings great balance to their midfield is Benoit Cheyrou and he knows this game is hugely important.  "It will a game for six points, a bit like a final."  Cheyrou has claimed three goals and three assists this season, he has a superb left foot and is known for his quality from dead ball situations. He has represented the Under-21 French team and a lot of people feel he should be a regular for the full national side.
OM are still waiting for their January striker signings to make an impact in the attack. Brandao, who joined from Shakhtar Donetsk and Sylvain Wiltord who joined on loan from Stade Rennes, are yet to score for Marseille.
Unlike their opponents, Bordeaux travel to the south of France in fine form and in recent weeks have been playing the best football in the country.
In their last six league games they have claimed five victories and in the 2-2 draw against Lille they were very impressive. Bordeaux then followed this up with a 3-0 Coupe de la Ligue victory over PSG in the semi-final this week, just three weeks after trouncing the Parisian club 4-0 in the league.
Whilst Yoann Gourcuff, who is being described as the "new Zidane," former Manchester United and Sunderland striker David Bellion is also in fine form, scoring two goals in two matches over the past week.
The 26-year-old striker may not be the most consistent player in the team and often starts as a substitute but his good form may see him start this match.
The first clash between these teams at the start of the season ended in a 1-1 draw. Bakary Kone scored for OM and Marouane Chamakh for Bordeaux. Kone will miss this game after his recent dramatic clash with Hugo Lloris which left him with a broken cheekbone.
Marseille will also be without Lorik Cana (knee) while Hatem Ben Arfa (flu) and Boudewijn Zenden (left foot) remain doubts. Mamadou Niang is back in training and back touching the ball, although he is not likely to feature in Sunday's key match.
101gg predicts: Marseille 0 – Bordeaux 2
FC Porto v Benfica Lisbon, Portuguese Liga, February 8, 2009
This clash between the top two teams in Portugal is undoubtedly one of the best games in Europe this weekend, as just one point separates Porto and Benfica.
Benfica were the last team to win the Portuguese title aside from Porto (back in the 2004/2005 season) and were in first position for several weeks thanks to only losing one game this season (to Trofense) at the beginning of 2009.
Speaking ahead of the game, Benfica's Argentinean attacking midfielder said: "It's a classic game, very important to us, but difficult as well, we want to make a good game and we have still much do to this season."
Benfica have scored 26 goals this season which have been split among a lot of players in the team. David Suazo has claimed five in the league and in Europe, whilst Nuno Gomes also has five along with Oscar Cardozo. These three attacking players provide a solid attack that can beach any defence.
Benfica come into this match in good form following a 2-1 victory over Vitoria Guimaraes in the semi-final of the league cup. In the final they will meet Sporting Lisbon who stunned FC Porto with a 4-1 win.
The champions for the last three seasons had a shaky start to the season, at one point dropping to eighth place. But in the last nine games they have won eight and drawn one and their 3-1 win over Belenenses last week took them into first place.
FC Porto have the best attack in the league and similar to Benfica their threat can come from anywhere. Cristian Rodriguez, (6 goals), Hulk, (6 goals) Lisandro Lopez (9 goals) and Lucho Gonzalez (7 goals) will ensure, along with the Benfica attack that this game is unlikely to finish goalless.
101gg predicts: FC Porto 3 – Benfica 1
---
GAMBLING CAN BE ADDICTIVE, PLEASE PLAY RESPONSIBLY