No shortage of intrigue this weekend, with the top two over the last few years in England facing off, David Beckham's Serie A debut and the Cairo derby.
Manchester United v Chelsea, Premier League, January 11, 2009
A repeat of the 2008 Champions League final, and a crucial game in the context of what is turning into a three-horse race for the Premier League title.
If Liverpool can win away at Stoke there will be a load of pressure on both teams and United must be slight favourites thanks to Chelsea's struggles against the top teams this season.
The Blues will point to their excellent away record as to why they might come away from Old Trafford with their title challenge on course and this game is a massive one for Luiz Felipe Scolari who is still to convince in England.
United's performance at Derby on Wednesday was pretty woeful and hardly befitted a team who could sweep every major trophy this season.
The Red Devils' lack of league games in recent times has led many of us to forget that they have won four of their last five games in the Premier League. However, in this period they have not scored more than one goal in any of these games. Which goes to show how good their defence is and that Sir Alex Ferguson still has not got the attacking side of his team firing on all cylinders.
One must also question the form of Cristiano Ronaldo – who more than ever seems set for Real Madrid and whilst United were right to hold on to the Portuguese winger, he has also struggled to hit the heights of last season.
Chelsea's form recently has been pretty woeful, they have only beaten Bolton and West Brom twice in the league since early November. And the feeling around the club is not one of high-spending optimism as it has been since Roman Abramovich's arrival.
Both teams haven't really played anything near to their best this season so far, the 1-1 draw at Stamford Bridge was not a patch on the quality of the match in Moscow last May.
United will fancy the win and the opportunity to derail further the Chelsea title challenge and perhaps get their forward line firing again.
101gg predicts: Manchester United 3 – Chelsea 1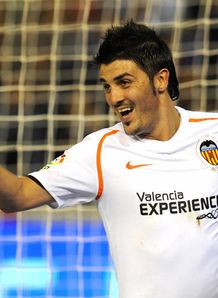 Valencia v Villareal, Primera Division, January 10, 2009
Villarreal, who have won on their last two visits to the Mestalla, will try to gain another one when they meet second place Valencia on Saturday. But the "Yellow Submarine" is in terrible form, having been crushed down to seventh place in recent weeks, while Valencia need to win in order to hang on to second place.
The visitors will have to cope without suspended captain Marcos Senna in the center of the park. Therefore summer signing Sebastian Eguren will play an important role in this game.
Eguren said this week: "It is a match against one of those above us so we need to win this kind of game, besides, it is also a derby. To add three points in this match is very important, since we have now gone three matches without doing so."
Nihat is in great shape after being injured playing for Turkey at Euro 2008, and could make a big impact on the game. "For me, this will be a six-point game," he said. "They are second, and therefore we need a victory there if we don't want to lose sight of the best teams."
The good news for Valencia is the return of David Silva, who has been mentioned as a possible candidate for Juventus in the last week. Valencia were quick to dispel those rumors.
Silva returned last week to the team's lineup, helping his side to a 2-1 victory over Atletico Madrid with a superb man of the match display of two goals.
101gg predicts: Valencia 2 – Villareal 1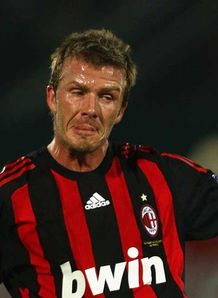 AS Roma v AC Milan, Serie A, January 11, 2009
David Beckham will make his eagerly awaited debut in Seria A on Sunday, when AC Milan visits the Stadio Olimpico in Rome for an interesting match against AS Roma. But even if Beckham stays on Carlo Ancelotti's bench for the entire 90 minutes, there is still a huge interest in this game and a lot to talk about before the kick off.
Milan is back from its training camp in Dubai, in which Beckham played his first ever match with the team against German side Hamburg. Beckham played as a defensive midfielder during this game, and it seems he can settle in this position until Gennaro Gattuso is back from his long term injury.
"He's still not in form, but his contribution could be useful," Ancelotti said. "He has dynamism, tactical intelligence and skill. He plays for the team and is always involved."
"You could see that he wants to play and win with us," said Ronaldinho. "Simplicity is his best weapon, and with desire you can accomplish a great deal. Milan is not a team of galacticos, it's a team with a lot of great players that know how to sacrifice themselves."
Milan is nine points from city rivals Inter at the top of the table. Daniele Bonera, Marco Borriello, Alessandro Nesta, Gennaro Gattuso and Philippe Senderos are all out injured. Ancelotti will play the usual 4-3-3 formation with Kaka, Ronaldinho and Pato in the attack, while the only question is if Flamini will receive the keys in the center of the field or it will be Beckham.
Eleventh placed Roma had a dreadful start to the campaign, and now they have to fight their way back to fourth place, the bare minimum expected by the heads of the club. The Giallorossi will have to cope without inspirational captain Francesco Totti who is out due to a thigh injury. Julio Baptista is in doubt following a bruised knee.
Therefore Roma is expected to pair Mirko Vucinic as the lone striker in the usual 4-5-1 formation. Frenchman Jeremy Menez will play as an attacking midfielder in the center together with Rodrigo Taddei. Max Tonetto is also out injured, and John Arne Riise is expected to get a place in the starting 11.
101gg predicts: AS Roma 0 – AC Milan 2
Girondins Bordeaux v Paris Saint Germain FC, Ligue 1, January 11, 2009
This match-up sees two teams who had a good opening to the 2008/2009 season meet as they bid to stop Lyon winning another Ligue 1 title.
Bordeaux, who always seem to be second in France, are three points behind the champions whilst PSG, visitors to the Stade Chaban Delmas are two places below, two points behind the home side.
Bordeaux have been fairly quiet in the January transfer window so far, the only movement has been the decision to loan out striker Gabriel Obertan to FC Lorient until the end of the season.
PSG will have to pay close attention to Fernando Cavenaghi who is in great form this season. The Argentinean striker claimed 15 goals last season and already has claimed 11 goals, one less than the top goal scorer in France Andre-Pierre Gignac.
Cavenaghi was recently voted the best foreign player in Ligue 1 during 2008 by France Football. The 25-year-old who is a great finisher in the box has turned round those in France who doubted his ability after he joined after a disappointing spell in Russia.
After a summer of much excitement and transfers, PSG are living up to expectations so far this campaign. Besides Guillaume Hoarau (who scored the winning goal in the first meeting between both teams at the beginning of the season), Peguy Luyindula is having so a very good season so far and a number of English Premier League clubs have already showed interest in him in this transfer window.
Luyindula is still a very fast player who can perform behind the strikers and with six goals and an assist to his name this season he could be a player to look out for in this game.
101gg predicts: Bordeaux 2 – PSG 2
Al Ahly Cairo v Al Zamalek Cairo, Egyptian Premier League, January 11, 2009
After two meetings in the CAF Champions League at the beginning of the season, Egypt's two giant clubs will meet on Sunday for the first derby match in the league this season.
African champions Ahly, who is in third place with three games in hand, will try to overcome a tough period for the club and beat its arch rivals Zamalek who are sixth and is in the midst of a poor season.
Ahly were stunned on Wednesday by Haras Al Hodoud when the small club beat the Cairo Reds' 1-0 in Alexandria and eliminated them from the Egyptian Cup. Manuel Jose's team, who failed also to impress in the latest FIFA Club World Cup, managed to beat Ismaily 1-0 in its last league match, which was marred by nasty behavior from Ismaily's fans who threw missiles and seats to the field. Ahly was forced to make its way back to Cairo by armored vehicles affiliated to the Egyptian security forces.
The good news for the Red Devils is the good form of attacking-minded left back Sayed Moawad, who scored against Ismaily. Influential and experienced midfielder Mohamed Barakat is also in great shape, which can help the team's offensive tactical array.
Multidimensional midfielder Ahmed Fathi is back to full fitness after long-time injury and looks in good form recently as well. Coach Manuel Jose will hope that star playmaker Mohamed Abu Treika will once again show his skills in Egypt's most attractive match.
On the white side of town, Zamalek is eager to prove their worth against their rivals. Ahly won the first encounter between the two this season, back in July, and in September it finished in a 2-2 draw. But they don't look very good this season, and failed to beat second division side Tanta when they were held to a 1-1 draw in a friendly on Tuesday ahead of the match.
Zamalek is still without a permanent coach, and the latest candidate for the office is Swiss coach Michel Decastel. The team has though completed its first signing in January this week, when former Lierse left back Omar Yassine joined the team. Yassine is a talented player, who is supposed to take the position which is currently held by unimpressive Osama Hassan and Brazilian Ricardo, who might leave the club soon.
If Zamalek, who is out of the Egyptian Cup after losing to a third division side, still wants to gain something this year, it must win on Sunday. If Ahly doesn't to get too far away from leaders Petrojet, they also must win.
So 80,000 fans in the Cairo International Stadium will for sure enjoy a fast, attractive and attacking football game.
101gg predicts: Al Ahly 3 – Zamalek 1
---