The best of the Twitter reaction to Andrea Pirlo's glorious free-kick for Juventus at Fiorentina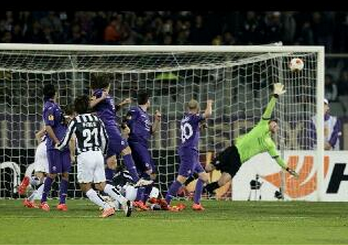 Andrea Pirlo is getting better with age!
The 34-year-old has now settled two matches in a week with quite stunning free-kicks.
On Thursday, Juventus emerged past a resilient Fiorentina side thanks to Andrea Pirlo's awesome set-piece skills.
With the score at 1-1 from the first leg, Pirlo made Fiorentina pay with 19 minutes remaining, just after Gonzalo Rodriguez had been sent off for a foul on Fernando Llorente.
Having won the match for The Old Lady at Genoa, now Pirlo settled a fascinating all-Italian tie in the Europa League.
And, you would not bet against Juventus winning the Europa League.
With the Scudetto all but wrapped up, what will Pirlo get up to at the World Cup?!
Best of the Twitter reaction to Andrea Pirlo's winner below.
WOW Pirlo with a brilliant free-kick to put Juve 1-0 up at Fiorentina. Completely different from his usual – an arrow into the top corner.

— Michael Cox (@Zonal_Marking) March 20, 2014
That sprint and leap to celebrate the goal is probably the fastest Pirlo has run in his entire career. #lols

— Ahmed (@AZKhawaja) March 20, 2014
Pirlo after he scored his free kick pic.twitter.com/ywFO99YAu0

— Football Funnys (@FootballFunnys) March 20, 2014
What's my favourite type of Andrea Pirlo picture? One in which his face appears three times, of course. pic.twitter.com/2LAvOhB19u

— Paddy Power (@paddypower) March 20, 2014
Majestic Pirlo showed again tonight he is still deadly from any free kick – England beware. Don't concede fouls round edge of box.

— Ian Darke (@IanDarke) March 20, 2014
I there a current player that elicits such blanket awe & respect as Pirlo?

— Back Page Football (@bpfootball) March 20, 2014
Pirlo is pushing Juve along in Serie A and in the Europa League. Maybe he can push Italy in the World Cup too. #Legend

— Mina Rzouki (@Minarzouki) March 20, 2014
Remarkable MT @OptaPaolo 5 – Andrea Pirlo has scored five goals for Juventus this season in all competitions, all from direct free-kicks.

— danlevy1 (@danlevy1) March 20, 2014
It really is mind boggling that Milan sold Pirlo to Juventus

— Owen Neilson (@OwenNeilson) March 20, 2014
Pretty lucky to live on the same planet with Pirlo. #Juventus

— Michael Yokhin (@Yokhin) March 20, 2014
---
GAMBLING CAN BE ADDICTIVE, PLEASE PLAY RESPONSIBLY