The Bela Guttman Curse: Did Chelsea win the Europa League final because of legendary coach?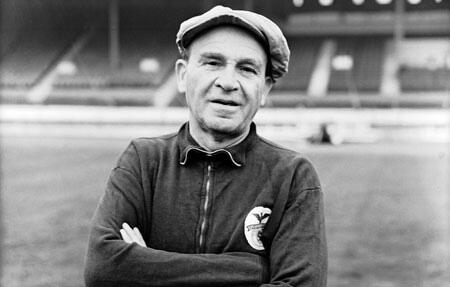 Forget Petr Cech's fine saves, Benfica's horrible finishing and Branislav Ivanovic's late winner – there may well have been another reason for Chelsea winning the Europa League.
Benfica's curse of never having won a European trophy has been placed by some at the feet of legendary coach in the years before and after the Second World War, Bela Guttman.
The Jewish Hungarian footballer and coach was very much the Jose Mourinho of his time and rarely even stayed two years at a club.
He managed Benfica from 1959 to 1962 and at the end of his time there allegedly put the following curse on the Portuguese giants.
Via Wikipedia…
After the 1962 final Guttmann approached the Benfica board of directors and asked for a pay rise, but, despite the success he had brought the club, he was turned down. On leaving Benfica he allegedly cursed the club, declaring "Not in a hundred years from now will Benfica ever win a European Cup". Despite being finalists on seven occasions – 1963, 1965, 1968, 1983, 1988, 1990 and 2013 – Benfica have never since won any European Championship. Before the 1990 final, which was played in Vienna, where Guttmann was buried, Eusébio even prayed unsuccessfully at his grave and asked for the curse to be broken.
In certain parts of the world, Bela Guttman was trending on Twitter after Branislav Ivanovic headed Chelsea to Europa League final victory over Benfica.
A selection of the best Tweets on the Bela Guttman curse are below.
I imagine the ghost of Bela Guttman told John Terry to change into his kit to collect the trophy. Clichés

— Gavin Chalmers (@gavinglove) May 15, 2013
The Béla Guttman curse continues for Benfica. They gotta wait for at-least another 49 years for a European cup.

— Davidę Vickÿ (@iamvickz) May 15, 2013
If only Bela Guttman had muttered something about eternal world peace instead…

— Amy Lawrence (@amylawrence71) May 15, 2013
---
GAMBLING CAN BE ADDICTIVE, PLEASE PLAY RESPONSIBLY