The BBC's Susanna Reid sings the Wilfried Zaha song on hearing about his England call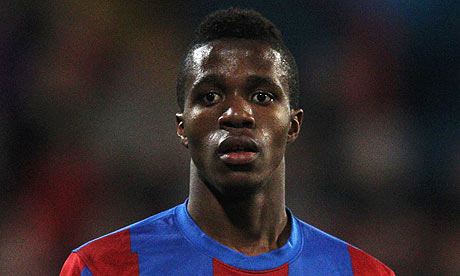 Credit to FYPFanzine for flagging this up on Twitter.
As the start of the international week in England, perhaps the biggest story surrounds the inclusion of young Crystal Palace forward Wilfried Zaha in the national squad.
For a while now people at Selhurst park have been waxing lyrical over just how fantastic Zaha is, but with the Eagles surprisingly top of Championship table, Zaha has recently acquired the reputation as being the most exciting talent in Blighty playing outside the Premier League.
Barely a day goes by now without the football gossip columns peddling a Wilfried Zaha transfer rumour.
Arsenal seem to be the club most interested in the 20-year-old, however, as confirmed by new Palace boss Ian Holloway just a couple of days ago, the Eagles are steadfastly refusing to acknowledge that their star player is available for purchase.
Holloway spoke at Friday's Palace presser saying:
Let's just get this straight. Wilfried Zaha is not going anywhere. He's not gonna go anywhere, and he's playing in Palace's first team… He's almost mesmeric. He's almost a genius [with the ball]… He's got his own song: 'He's just too good for you!'
On Monday morning the Wilfried Zaha song was again heard on TV, although this time is was at the unlikely surroundings of the BBC's morning TV studios.
Susanna Reid, the presenter on BBC Breakfast, sung the Zaha song after engaging in a sport report covering the England squad. For the record, Ms Reid dates sports reporter Dominic Cotton who is a well-known Palace fan.
Watch Susanna Reid's Zaha song rendition below.
[jwplayer config="For-all-videos" mediaid="258304″]
---
GAMBLING CAN BE ADDICTIVE, PLEASE PLAY RESPONSIBLY