The Almost Goals: Jack Wilshere (Arsenal) vs Celtic & Zlatan Azinovic (Kalmar) vs IFK Gothenburg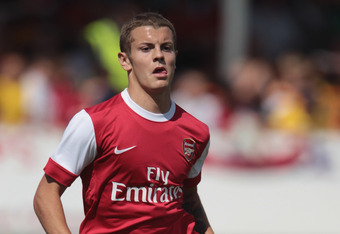 Had these efforts hit the backs of the nets then they'd have been two of the great goals of the weekend.
Over at the Emirates stadium on Sunday, Arsenal took on Celtic in a pre-season friendly which the Gunners ran out 3-2 winners. (See here.)
For much of the match the Wenger Boys were the far superior team and their confidence was clearly evident in a the 35th minute when future-star-of-tomorrow, Jack Wilshere, almost bagged a volley which would have stuck in the memory for some time yet.
Reminiscent of that Paul Scholes goal from back in the day against Bradford, from a Rosicky corner the ball was fizzed to the edge of the Celtic box where whippersnapper Wilshere came storming in. Without breaking his stride the young Englishman connected perfectly with the ball, crashing an unstoppable volley goalwards.
Fortunately for the Bhoys, the crossbar came to their aid.
A second almost goal worth flagging up came in the Swedish Allsvenskan on Sunday in the match between IFK Gothenburg and Kalmar.
IFK won the contest 3-1 (see here), but the hosts came frightfully close to having egg on their face when Kalmar keeper Zlatan Azinovic came within a whisker of scoring from 80-yards. Thankfully for opposite goalie Marcus Sandberg, after initially getting his bearings all wrong he managed to backtrack just in the nick of time.
Zlatan Azinovic's effort can be seen here.
Click here for more Premier League betting tips
---