Terrible but Brilliant: Didier Drogba returns to haunt Arsenal, diving and scoring twice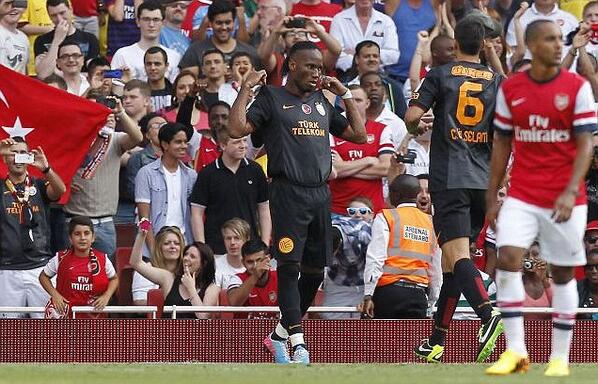 Over the years Didier Drogba would typically bang them in for Chelsea against city rivals Arsenal.
12 months ago he left Chelsea and Gooners everywhere let out a sigh of relief.
However, on Sunday afternoon Drogba returned to the Emirates with new club Galatasaray.
1-0 down, Drogba saved the day for Gala, scoring two late goals to make his tally 15 goals in 15 games against Arsenal.
His first goal, a penalty, was dubious to at the least after Drogba took a dive in the box and was somehow awarded a penalty.
His second was another typical Drogba goal; the good kind.
His first touch was perfect, creating space to fire in left-footed to give Galatasaray a 2-1 win. This saw them crowned Champions of the Emirates Cup.
GIF's of his dive and his two goals can be seen below:
---