Tekkers! Arsenal legend Thierry Henry pulls out some skills during futsal game in Rio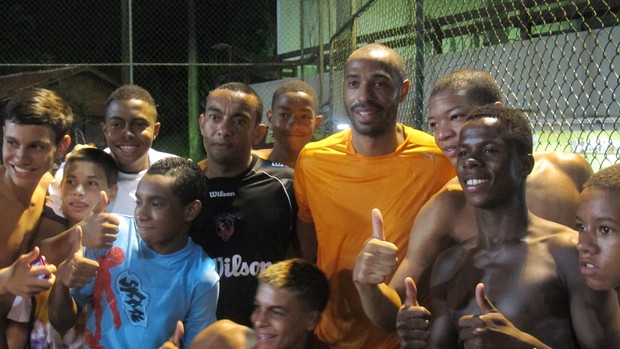 After returning to Arsenal for a third time was ruled out, Thierry Henry headed out to Rio, Brazil for a well earned holiday after a long MLS season.
Despite watching a few games over Christmas at the Emirates, Henry and Arsene Wenger decided there wouldn't be another cameo appearance for the French legend at Arsenal.
So, Henry has spent the last few days in Rio, enjoying Brazil and on Monday the French striker joined a pick up game in the Clube dos Macacos.
As ever, footage has emerged of the Arsenal legend strutting his stuff, pulling out some moves even against a bunch of amateurs.
According to reports, Henry was friendly and posed for pictures with his fellow players. Globosporte even go so far as to say that Henry left with just his shorts on at full time as he had given hos boots and shirt to his team mates.
Henry also discussed playing for Vasco da Gama, but feels it will no longer be possible due to his age but did not rule out living in Brazil one day.
Footage of Thierry Henry playing in a kick about in Rio can be seen below.
---
GAMBLING CAN BE ADDICTIVE, PLEASE PLAY RESPONSIBLY