Swansea's Jonjo Shelvey scores serious Goal of the Season contenter v Villa, volleyed lob from 60 yards! [Vine & GIF]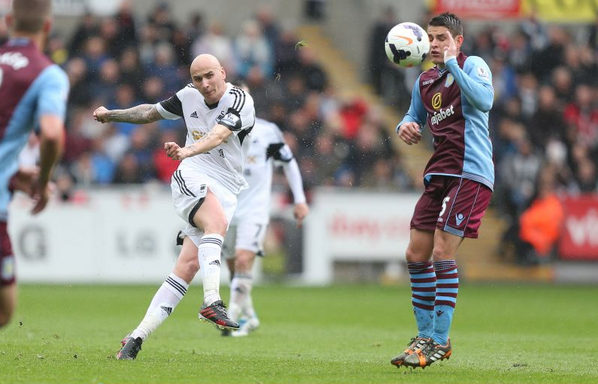 [gthumb id="422419″ size="large" autoplay="1″]
Jonjo Shelvey, take a bow son.
The Swansea City playmaker scored a sensational lob from 60 yards – via a self-made volley – against Aston Villa this afternoon.
Shelvey controlled the ball just outside the centre circle, looked up, and unleashed a technically brilliant volley, cutting across the ball to apply swerve.
Poor Guzan in the Villa goal was bamboozled by the flight of the ball, and could only watch as it floated gracefully over his head.
Step aside Wayne Rooney, there's a new, better goal of the season contender in town.
Vine above, GIF below.
Bet on the Premier League and claim a free bet
---
GAMBLING CAN BE ADDICTIVE, PLEASE PLAY RESPONSIBLY