Swansea striker Bafetimbi Gomis sparks concern after collapsing against Spurs [Tweets]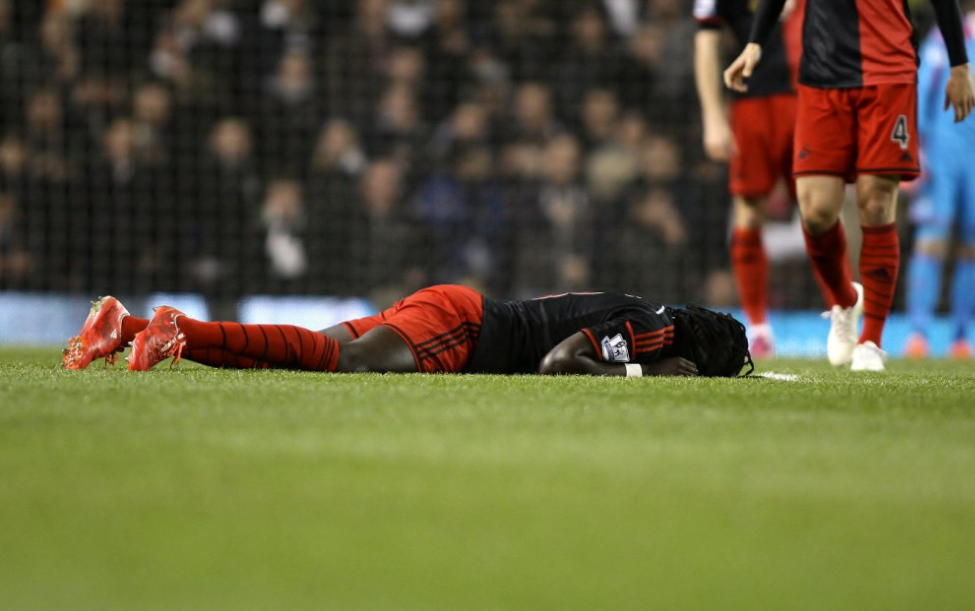 The football world was united in concern earlier on after Bafetimbi Gomis was reported to have collapsed in Swansea's game away to Tottenham.
Nobody was near him at the time and medical staff ran on to the pitch immediately, and have been rightly praised for their quick actions.
After they went to work on Gomis, he eventually regained consciousness and they fed him oxygen before stretchering him off the pitch as he was substituted.
His condition in the aftermath of this incident is not yet known.
Immediately it conjured memories of the near-miss that occurred with Fabrice Muamba in 2012.
The Bolton midfielder also collapsed on the turf at White Hart Lane and effectively died then and there on the pitch before being revived after miraculous work by medics.
It was a brush with death that understandably scarred a lot of Spurs and Bolton players and everyone on the field tonight will have felt the same way.
As Guardian editor Ed Aarons points out, Gomis has a history of fainting and we reported on it back in 2009.
It happened when he was at a training camp with France. Afterwards he went through a series of tests to make sure that it wasn't too serious and he got the all clear. Maybe it's time Gomis took a similar set of tests to make sure he's not risking his life by playing football.
Gomis has collapsed on the pitch. Major concern, medical staff around him. Bentaleb looks distraught. Hope it's better than it looks.

— Chris Miller (@WindyCOYS) March 4, 2015
Play has not restarted since the goal as Swansea forward Gomis is receiving treatment from both medical teams.

— Tottenham Hotspur (@SpursOfficial) March 4, 2015
[Photo du soir] Bafé #Gomis a perdu connaissance en plein match pic.twitter.com/DeZFrXMF1S

— Aristide Konan (@arolove06) March 4, 2015
This isn't the first time Bafetimibi Gomis has collapsed. Happened when training with France in 2009 #swans http://t.co/f0oofPzgWk

— Ed Aarons (@ed_aarons) March 4, 2015
He's been stretchered off. Regained consciousness and getting oxygen. #Gomis pic.twitter.com/fs3Ne1fOQa

— Arsène's Son (@hughwizzy) March 4, 2015
Gomis underwent a series of medical tests for fainting episodes in 2009 which indicated no serious threat to his health. #BBCfootball

— Conor McNamara (@ConorMcNamaraIE) March 4, 2015
Credit to the medical staff, paramedics & staff at White Hart Lane for their quick reaction to the Gomis incident.

— Simon Peach (@SimonPeach) March 4, 2015
PIC | Bafetimbi Gomis lies unconscious on the ground at White Hart Lane. Thankfully he is okay http://t.co/COYc528x0X pic.twitter.com/6rDCtWozyi

— MailOnline Sport (@MailSport) March 4, 2015
Swansea striker Bafetimbi Gomis has collapsed in this evening's match against Tottenham http://t.co/wrmEgdR8VX pic.twitter.com/BWISjr4YL8

— P&J Sport (@PandJSport) March 4, 2015
El delantero Gomis del Swansea se desmayó y tuvo que salir del campo. Esperemos no sea nada grave. #BPL pic.twitter.com/fxVB5sMor8

— Bajo Los Tres Palos (@bl3palos) March 4, 2015
---
GAMBLING CAN BE ADDICTIVE, PLEASE PLAY RESPONSIBLY