Sunderland striker Jozy Altidore gets a brutal paper rating for his shift against Kidderminster [Picture]
Asmir Begovic – 1 goal in 17 appearances. Jozy Altidore – 1 goal in 20 appearances. Guess which one is the keeper. @LukeAHarvey

— Josh Barber (@notjoshbarber) January 26, 2014
23 people took my $100 bet in August that Altidore wouldn't score double figures this season. How many will admit it?

— Paul Sarahs (@PaulSarahs) January 25, 2014
Sunderland striker Jozy Altidore got panned in one of the English newspapers this weekend following the Black Cats' 1-0 win over Kidderminster in the FA Cup.
Altidore, who has managed to score just one goal in 20 games this season, scored 5 out of 10 for his performance, however he was given the following assessment:
Not wishing to be cruel, but he looked out of his depth against a non-league side. 
Below is the paper cut-out slamming Sunderland's wayward striker.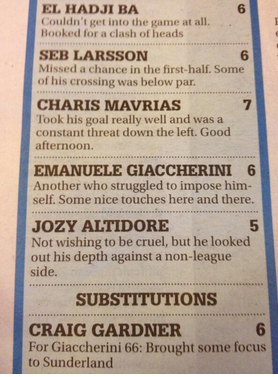 ---
GAMBLING CAN BE ADDICTIVE, PLEASE PLAY RESPONSIBLY