Sunday Supplement: Shearer's challenge; Rooney the talisman & Liverpool's year?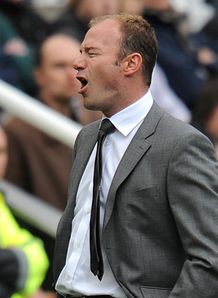 Up for discussion this Sunday morning was Alan Shearer's return to Newcastle and Shaun Custis (The Sun) suggested that he doesn't feel the former Toon number nine will keep them in the Premier League. Nevertheless, Custis beleives Shearer could be a good manager but time is against the former England striker. Ian Ridley (Mail on Sunday) also threw his support behind the appointment but questioned the "leggy, older players who don't look up to it anymore." Martin Lipton (Daily Mirror) also bashed the Newcastle side, "the defence is a mess, the midfield lacks creativity and they can't buy a goal."
Wayne Rooney and England dominated another portion of the show with the hacks questioning whether the Manchester United striker can be trusted on the field. Custis defended Rooney for punching a corner flag at Fulham and not the "opposition center back." Lipton added his two penneth questioning whether Argentina could trust Maradona and whether Aime Jacquet could build his team around Zinedine Zidane. The talk moved on to Rooney's challenge on Aliyev with all the journos agreeing that he would have been sent off at a major tournament with a similar challenge.
The main topic (an eight minute video) introduced by Brian Woolnough of the Daily Star was Liverpool's title challenge and whether it is their year. Martin Lipton was the first to back the Merseyside giants who have the momentum, highlighting that the Liverpool players at Craven Cottage had to abandon their warm down such is the belief and hysteria from the fans. Ridley pinpointed the difference in Rafa Benitez this season, as he has clearly targeted the Premier League and there has been a "shift in him." Custis praises Benayoun, a "busy player" who Ridley compares with Kevin Keegan, who "used to drop grenades." The hacks add that the off-field issues at Anfield shouldn't derail the title challenge.
---
GAMBLING CAN BE ADDICTIVE, PLEASE PLAY RESPONSIBLY