Sunday Supplement: Chelsea can beat Barca; Is Giggs player of the year & United for the title?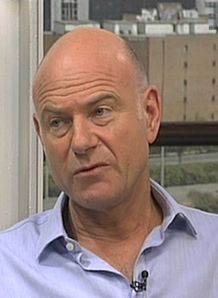 The hacks, hosted by Bill Bradshaw of the Daily Express, looked ahead to the semi-final Champions League ties this week. Joe Lovejoy of the Sunday Times expects to see an "adventurous" Arsenal but sees the Chelsea-Barca game as the better of the two games and tips the Blues to win. Ian McGarry of The Sun feels the game is "slightly tilted in Chelsea's favour" and he also claimed that he spoke to some Chelsea players last night after Barca's demolition in the Bernabeu and they said: "yeah, but we are not Real Madrid, we are better than they are."
Ryan Giggs' PFA Player of the Year award was next up for discussion. Lovejoy said "there are instances when a player has had such a distinguished career that it is right to salute that career when it is coming to an end." McGarry questioned the voting techniques, with the PFA rep at each club having more power than they perhaps should have. Patrick Barclay of The Times (pictured) wasn't prepared to go for Wayne Rooney and put the case forward for Michael Carrick – "a lovely person who doesn't complain to referees."
Finally, the title race was chewed over, with McGarry unable to see where United will drop any points and it will "effectively be a procession." Barclay pinpointed the three games in six games that United have to face against Manchester City, Wigan and Arsenal.
---