Sunday Star say Man United to spend £150m on Cavani, even though striker says he's happy at PSG
Do the hacks at the Sunday Star simply make up transfer rumours off the top of their heads?
The latest installment of complete BS transfer nonsense promulgated by the Star centres around the never-gonna-happen headline "£150m – That's Moyes war-chest & Cav is his top target".
Behind the bombastic headline, Paul Hetherington farts:
David Moyes has been handed a sensational £150m transfer budget and has made superstar-striker Edinson Cavani a top target.
The Daily Star Sunday can reveal that Uruguay's Cavani is eyeing a move to the Premier League, placing United on alert for a summer swoop. Cavani, 26, only joined PSG last summer from Napoli for £55m.
[Cavani] is not impressed with the French League and wants to be a star in the Premier League – like his Uruguay team-mate at Liverpool, Luis Suarez.
The report in the Star fails to mention Cavani's quotes from the start of the year in which the attacker seemed happy and positive about life in Paris. Cavani told French newspaper Le Figaro:

Yes, I really think that the PSG can win the Champions League.
I feel good next to Zlatan . He is a player of great class. He scares opponents because he can score at any moment. He has his own way of playing; it may seem impolite and rude, but he is a very important player for the team.
I'm very good in Paris. I had a rather difficult adjustment, but all the people in France have treated me great and this has helped me. Today I feel happy and want to grow more as a person and player. I work 100 percent to achieve my goals with PSG.
A copy of the Sunday Star's backpage can be read below.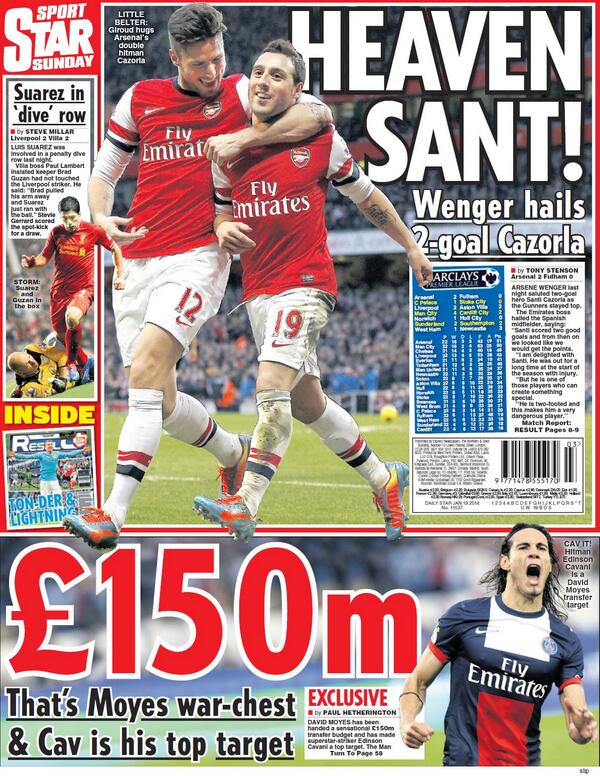 ---