Stonewall penalty! Luis Suarez taken out by The Ox, Howard Webb bottles it! [Arsenal-Liverpool]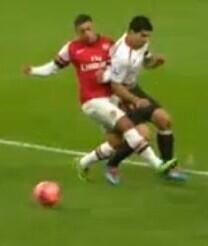 This is about as stonewall as they come!
Referee Howard Webb bottled it big time at the Emirates on Sunday, just moments after Liverpool pulled it back to 2-1 against Arsenal with a spot kick from Steven Gerrard.
Alex Oxlade-Chamberlain clearly brought down Luis Suarez in the box.
Howard Webb was standing in a perfect position to see the Arsenal midfielder take down the Liverpool striker.
Shocking decision!
---