Stoke-bound Juan Agudelo scores crazy back heel lob for New England v Chicago Fire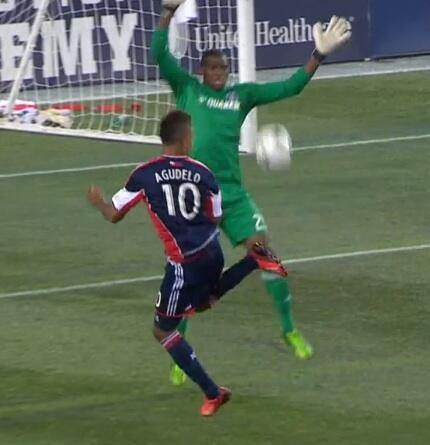 "I just thought the ball slowed down a little bit. It was just instinct. Maybe it was a little South American swag, I don't know. I'm just happy it went in. I knew it was across the line. I was hoping the refs saw it went across the line. It was an awesome feeling to see the linesman put up his flag to say it was a goal." – Juan Agudelo.
Stoke's lack of a goal threat at Anfield on Saturday, besides John Walters' missed penalty late on, could be cushioned by the arrival of Juan Aguedlo, if Saturday night in the MLS is anything to go by.
Agudelo has signed a pre-contract agreement with Stoke and will officially join the Premier League side on January 1, 2014.
The 20-year-old has scored two goals in his past three matches and opened the scoring with a terrific goal for New England Revolution in their 2-0 win over Chicago Fire on Saturday.
In particular, the way Agudelo seems to have overrun the ball is particularly sweet, considering the fact he would eventually score.
Stoke fans should be warned though, Agudelo's goal scoring record isn't great – the Colombian-born forward has never scored more than 6 in a single season.
[gthumb id="345048″ size="large" autoplay="1″]
---
GAMBLING CAN BE ADDICTIVE, PLEASE PLAY RESPONSIBLY