Steven Gerrard: All 100 goals for Liverpool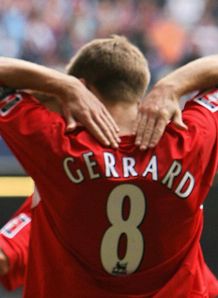 "Everybody knows that Steven is a fantastic player with many qualities. Going forward he is maybe even the best in the world as a midfielder…It is also important to remember that he is still young and so can score more goals and break more records in the future… Maybe he can go on and get 150 goals. Who knows? When a player reaches a special moment it is important that they have new objectives and targets to go on and achieve." – Rafa Benitez.
For anyone with a spare half hour today and looking for a Steven Gerrard love-in, we has the goods to keep you satisfied.
This video provides extended coverage of all of Gerrard's first 100 goals for the Reds, starting with his maiden strike against Sheffield Wednesday back in 1999, all the way through to his 100th goal against PSV in the Champions League just a few weeks ago.
All of Gerrard's first 100 goals can be seen here.
Best football betting tips & free bet offers
Click here for more Premier League betting tips
---