Spurs fans react with delight to news Hugo Lloris has signed a 5-year-deal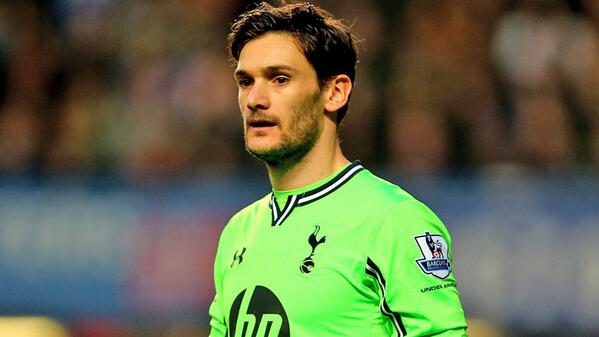 For once, it looks like Spurs won't lose their best player in the weeks leading up to a new campaign.
Tottenham announced Hugo Lloris has signed a new five-year-contract at the club on Thursday morning and the news has been welcomed by fans of the club.
Lloris told the Spurs website: "I spoke with the Chairman and I know the Club is as ambitious as ever," said Hugo. "It's very important to feel at home at a club and for my family to feel well. I enjoy a great relationship with the Club and the fans. The arrival of Mauricio Pochettino is important as well. I have a good feeling with him. He is also ambitious."
"Everything is clear in my head and if I've signed a new contract it's because I trust the Club and I'm sure we will progress in a positive way."
"Last season wasn't the season we all hoped for but we were still able to finish sixth in the league. We know where we have to improve, the Club also knows and there is a feeling and a confident connection between the Club and the players."
Below is some of the best Twitter reaction to Hugo Lloris' new deal at Spurs.
What a great way to start the day. Hugo Lloris 5 year contract! Completely out of the blue. Love it.

— Spurtino (@Spurtino) July 10, 2014
Very surprised that Hugo Lloris has signed a 5 year deal, I thought he would be leaving this summer for champions league football

— Michael 'MJ' Jackson (@MJChamone) July 10, 2014
#thfc Hugo Lloris has signed a new 5-year contract with Spurs. Great news for the club. Best player last season and sends positive message.

— Ben Pearce (@BenPearceSpurs) July 10, 2014
Hugo Lloris has penned a new deal at #THFC, taking him through to 2019. One of the best signings of the summer.

— Simon Peach (@SimonPeach) July 10, 2014
Hugo Lloris is a beautiful man

— Craig (@CSimmy34) July 10, 2014
Great news for Tottenham to extend Lloris contract. Spoke to Pochettino and was convinced to commit his future to the club.

— Julien Laurens (@LaurensJulien) July 10, 2014
Nursing an awkward semi in work after hearing the sexy news that Hugo Lloris has signed a new contract. #COYS #Hugo

— A Spurs Opinion (@ASpursOpinion) July 10, 2014
Hugo Lloris has signed a new five-year contract at Tottenham Hotspur. Must have been offered a huge amount to commit for that long.

— Focus on Football (@Focus0nF00tball) July 10, 2014
---
GAMBLING CAN BE ADDICTIVE, PLEASE PLAY RESPONSIBLY