Spurs fans joke that Arsenal should have signed Roberto Soldado instead of Mesut Ozil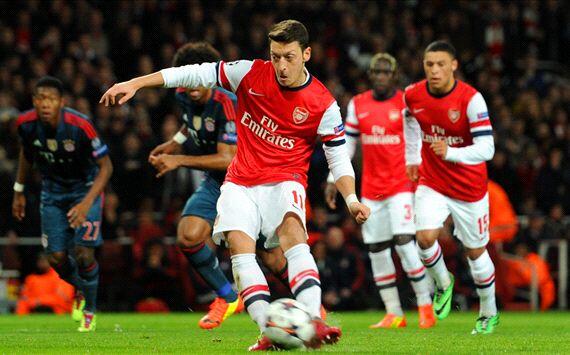 How different would Arsenal's first leg with Bayern Munich have been had Mesut Ozil converted his penalty in the 9th minute?
We will never know, but there is no doubting that Ozil never recovered with Arsene Wenger admitting afterwards that the German playmaker was shaking his head for the next 10 minutes.
Ozil struggled and has been labelled a misfit by some sections of the media.
Of course, Tottenham supporters have also chimed in with their thoughts on Arsenal's defeat to Bayern, laughing and joking about numerous aspects of the defeat.
And, whilst Roberto Soldado has been a major flop at White Hart Lane, there is no doubting that the Spaniard can take a penalty!
Hence plenty of Tweets from Spurs fans joking that Arsenal signed the wrong misfit last summer!
Perhaps Arsenal fans will get to laugh at their north London rivals as Spurs face Dnipro in the Europa League this evening.
Hahahahaha ozil he's even worse than soldado at least he can score a pen

— Tom How (@TomHow100) February 19, 2014
Ozil that is really really pathetic and the second time I've seen you do it, better send Bobby Soldado down for some coaching!

— Robert Glentworth (@Boggo1) February 19, 2014
Ozil needs to take tips off of Soldado

— kakashi (@captainkev_) February 19, 2014
Atleast soldado can score penalties. Actually ozil was trying to assist from the spot, not his fault.

— Mikow88 (@Mikow_) February 19, 2014
Ozil penalty miss? Should have signed Soldado instead, it's all he can seem to put away! Lool #THFC

— Peter Eades (@PeterEades1) February 19, 2014
Everyone giving Soldado stick because "he only scores penalties". Give me a break! Alaba & Ozil both miss, goal is a goal. He will come good

— e-Spurs (@e_spurs) February 19, 2014
Ozils last 3 pens: all missed Soldados last 3 pens: all scored Soldado is better than ozil

— Jonny (@jcrawford107) February 19, 2014
Ozil cost nearly 20m more then Soldado, difference between them is Soldado can actually score a penalty

— Gurdev Sahota (@gurdev_villa) February 19, 2014
Arsenal fans be like "Soldado only scores penalties.." LOL #Ozil

— Darren Donlon (@Ddonlon17) February 19, 2014
---
GAMBLING CAN BE ADDICTIVE, PLEASE PLAY RESPONSIBLY
Roberto Soldado