Spurs' Emmanuel Adebayor: "I don't care about Arsenal… I told Mancini to google me!" [Express]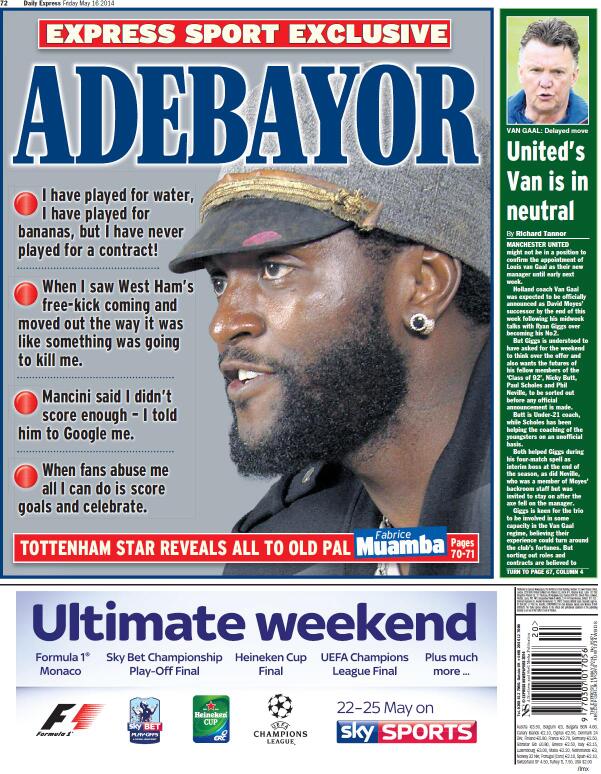 The Express on Friday have splashed the backpage of their page with quotes from an exclusive interview with Tottenham striker Emmanuel Adebayor.
In a nice twist, Adebayor held the interview with ex-pro Fabrice Muamba.
Below are some of the highlights of the interview:
FM: When you get a big contract, the first five games: 'Ade is on fire'. After that: 'Ade has gone missing'.
EA: No. I don't know why people keep saying, 'Ade's always playing for a contract'. I never played for a contract. I always have a four- or five-year contract wherever I go to.
My friend. If I sign a contract today that says I am worth £1m, tomorrow I want to be worth £2m. If they give me £2m, I want £10m. That is what football is about.
In Africa, when I was younger, what was I playing for? I remember playing for bananas. I remember playing for water. I don't play for a contract. I love the game.
FM: Do you think you are the No1 enemy at Arsenal now in terms of the fans?
EA: I don't want to know who is my enemy. All I want to know is who are my friends. My friends are Tottenham fans today. I play for Tottenham. I don't care about Arsenal.
FM: Ade, you have played under Arsene, Mancini, Mourinho, AVB, Mark Hughes, Redknap, Didier Deschamps. Which of those managers did you think you performed better under?
EA: Mourinho.
FM: How about Arsene?
EA: Arsene is a good manager.
EA: Mancini always had his way and then whenever he went into the club he was, like, I don't want you. I want Balotelli to come and play for me because your scoring rate is not that good. I thought, OK, maybe you are talking about another Adebayor. I told him to go on the internet.
FM: Is that what he told you?
EA: That is what he told me. That my score ratio was not good enough to play for Manchester City. I was, 'OK, if that's the case, just Google me.' Go on the internet.
FM: You didn't tell him to Google you!
EA: Of course I told him.
FM: You told him to Google you?
EA: Of course. Google me and you will see I have been in this league for four or five years before going to Manchester City. Google me and see what I have done in this league. If I am not shooting enough, how am I going to score? I have put the ball into the net, how?
---
GAMBLING CAN BE ADDICTIVE, PLEASE PLAY RESPONSIBLY