Sport Recife defender Tobi gets booked, does the Moonwalk in protest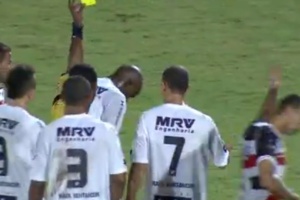 By rights, a 0-0 draw between Santa Cruz and Sport Recife on Sunday in the first leg of the Campeonato Pernambucano final shouldn't have thrown up many viral videos but defender Tobi had other ideas.
Tito, a defender for Sport Recife, was booked 25 minutes into the second half for a foul on Santa Cruz forward Flavio Caça-Rato meaning he will now miss the second leg of the final.
When the referee asked for Tobi's shirt number he turned around and produced a mini moonwalk that has had Brazil's media in a tickle.
After the game, Tobi said: "I was very upset when he gave me the card and I blamed him. Then he asked me to show my number. I turned to him and did it. But I did not intend to imitate Michael Jackson. I did nothing to bring the card…"
Video (which includes a comparison with the Michael Jackson original) of Tobi's Moonwalk is here.
Click here for more Premier League betting tips
---