Soccer AM clips: Dermot O'Leary dishes the dirt on Britney Spears & Michael Jackson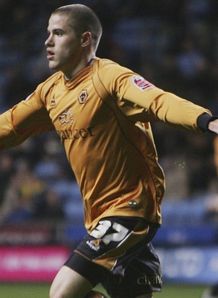 The first guest on the show was Wolves winger Michael Kightly, called in to celebrate his side's promotion to the Premier League. Deadpan, Kightly said he was "buzzing" at his team's achievement, before talking about his foot injury that has kept him out of the team for the last few weeks and then reporting that the squad are going to Las Vegas at the end of the season to party.
Reality TV host Dermot O'Leary was next to roll onto the sofa. After talking about X-Factor winning a Bafta award, Helen asked her guest whether he in fact laughed when Britney Spears made her awful appearance on the show last season. Later on in the interview O'Leary discussed meeting Michael Jackson and what it felt like to get a hug from the pop star.
The final guest was actor David Morrissey who came on to plug his new movie "Is Any There."

Chelsea's Florent Malouda dished the dirt on his teammates.
The usual features returned including Armed Forces, Our man in a caff, Iron Soldier, This is my Club – Swindon, Skill Skool, Crossbar Challenge, Tubes and Soccerette.
***
Showboat can be seen here.
Best football betting tips & free bet offers
Click here for more Premier League betting tips
---