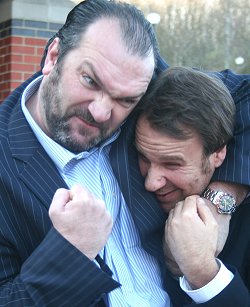 In a change from the normal routine, Helen and Max decided to start the show with an insight into how an episode of the show is put together during the week. The "Making of Soccer AM" can be seen here.
Razor Ruddock then parked himself down on the couch and Jason McAteer got on the blower to kick off the show with some good banter. Razor then got stuck into Baby Elvis, recalling the first time he went out on the road with him they discussed how all the men on the show refer to him as Baby Elvis while the girls call him Adam because he's "'ad 'em."
Next to roll onto the couch were Scroobius Pip and Dan Le Sac who talked about their latest music project. And the music artists kept on coming, The Rifles filtering onto the couch. The band spoke about their upcoming tour around Britain and the release of their new album.
The usual features returned including all the latest gossip from I Love Football – Chris Coleman, Iron Soldier, Skill Skool, Crossbar Challenge and Tubes.
---