Skills of the Week: Ronaldinho, Buonanotte & Alex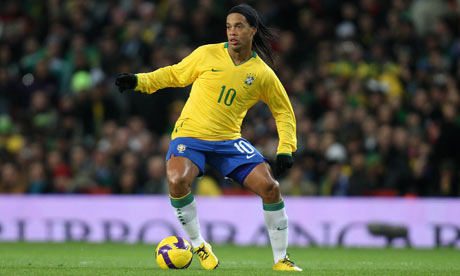 Several fine South American showboats have been executed in the past few days.
Ronaldinho was in inspired form against the Azzurri on Wednesday night in London, with the bucked-toothed genius showing an array of skills at the Emirates which left the crowd drooling. In one particular passage of play Ronaldinho found himself tight on the left hand touchline, with Daniele De Rossi in close proximity looking to snuff off any threat. However the Italian number 6 was bamboozled by the lightening feet and ability of the AC Milan playmaker to play the no-look pass and get himself out of bother in style
Ronaldinho's wonderful showboat can be seen here.
Another cute piece of skill was delivered by Internacional's Brazilian midfielder Alex in his side's 2-1 victory at Gremio in the Campeonato Gaucho at the beginning of the week.
Receiving the ball tight on the touchline, the midfielder was quickly closed down by Gremio defender Leo. However the defender never came close to stealing possession as Alex produced a silky dragback that left the defender starring at where the ball used to be while another Internacional attack was quickly put into effect.
Alex's sweet drag-back can be seen here.
Last, we head to Aregntina and last weekend's match between River Plate and Colon. River's diminutive number 10 Diego Buonanotte was fed the ball on the far right-hand side with Colon's Pablo Cesar Aguilar charging in looking to clear the danger. Knowing he only had time to take one touch before the defender would come slamming in, Buonanotte cheekily sent the ball through the number 6's legs before the suffering a crunching tackle for his troubles.
Buonanotte's "nuts" can be seen here.
---
GAMBLING CAN BE ADDICTIVE, PLEASE PLAY RESPONSIBLY