Should Andy Carroll have been sent off for West Ham v Swansea? [GIF]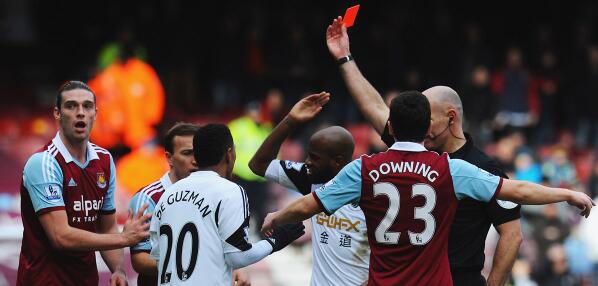 The last time Swansea played West Ham, there was a famous video that did the rounds of Sam Allardydce laughing at Swansea defender Chico Flores.
It looks like the Swansea centre back had the last laugh on Allardyce today as he played a big part in the sending off of Andy Carroll.
Albeit West Ham won the game 2-0, with Carroll bagging two assists, but they will be without their talisman for three games now after referee Howard Webb flashed the red card.
After the game Allardyce said: "I've just had a look at it and from our point of view I can't see why Howard has decided to give him a red card. His arm's gone over the top of his head and while his arm's swinging round, coming from a position where both players have tangled and are coming round to correct their balance, there were players running round to obscure his [Webb's] view."
The West Ham boss continued: "So he can't be absolutely certain of what's happened, except that Chico Flores is over-exaggerating, which is generally the norm for him unfortunately. To clutch his face and roll around, I think that's had a big influence on Howard's decision, thinking that it's caught him in the face when it hasn't at all. If we're going to red card people for that then we might as well stop playing and I might as well retire. The game's all about physical contact – there's two challenges gone in and there's nothing happened of any major incident. Nobody's been hurt."
Judge for yourself on the GIF below.
Best football betting tips & free bet offers
Click here for more Premier League betting tips
---