Shocker! Goal.com investigated over unpaid interns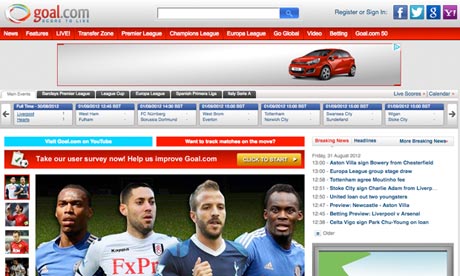 Did you ever wonder who was writing some of the ridiculous transfer stories on Goal.com? Now, we may have an answer.
The Guardian produced a rather shocking article late on Sunday, revealing that UK tax inspectors are investigating Goal.com for their widespread use of unpaid interns.
Shiva Malik reports: "The site has confirmed it uses a roster of 30 unpaid interns across seven days a week to file match reports and write other content for its UK edition. Its parent company, Perform, which is listed on the London Stock Exchange, says Goal.com attracts an average 24 million unique users a month and last year generated £4m in advertising and sponsorship revenue. Perform, which bought Goal.com for £18m in February last year, posted total revenues of £103m for 2011."
Malik continues: "A copy of a Goal.com staff schedule seen by the Guardian appears to show between five and seven interns a day being used between 7am and midnight to file news and match reports. Perform told the Guardian it had 22 full-time staff, plus paid freelancers. Following a push last year by the deputy prime minister, Nick Clegg, HM Revenue & Customs has been stepping up its investigations into unpaid internships, especially in the fashion industry, believing they may breach national minimum wage laws. Under the National Minimum Wage Act 1998 those who work must be paid, although charities and public authorities can be exempted to take account of volunteering."
The Guardian article on Goal.com and their use of unpaid interns can be seen here.
Quotes from "Kieron," who interned at Goal.com, are particularly striking:  "I guess it is because sports journalism is something that is so big, so popular, so many people like me want to get into it, that any 'in' is fine."
In truth, Goal.com has improved as a football website markedly in recent years. And they should be applauded for their global attitude to the game, whilst many in the UK remain blinkered to the delights of football beyond the Premier League.
Nevertheless, this use of unpaid interns damages the Goal.com brand, Perform – who are absolutely massive in video production online and the industry of football websites, which is becoming larger by the month.
---