Scolari needs to address mediocrity if Brazil are to succeed [Opinion Piece]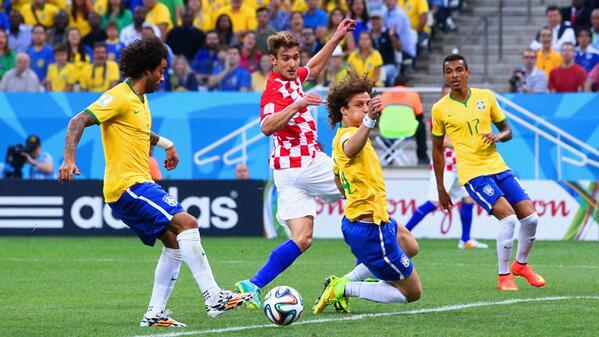 Opinion piece by James McGlade – follow on Twitter here @BabboPieta.
Brazil failed to convince but it might take a game or two to find their rhythm. A lot of pressure was on the host nation to win the opener and getting three points under their belts will help to settle them. But what will worry Luis Felipe Scolari is how many players failed to perform.
Hulk's decision making was typically shocking. As capable as he is, the Zenit attacker often shoots when he should pass and at times is less Incredible Hulk more Incredibly Greedy Glory-hunter. This is one explanation for why he still plies his trade in the wilderness of Russia. Ivica Olic's choices for Croatia also baffled at times. The veteran, surrounded by opposition players in his own half, mindlessly tried to bamboozle his way out of trouble with a marseille roulette; he was lucky that mistake went unpunished.
Fred was completely absent. Perhaps the form he showed at the Confederations Cup was a flash in the pan; the only contribution he made was winning a nonexistent penalty and then pointing skyward after the referee had been conned. Bernard provided a lot of energy when he came on and Neymar grew with confidence and looked dangerous late in the second half. His penalty was poor, however, and should have been saved. Brazil won't always have Pletikosa to help them to victory.
The Croatian keeper had an absolute shocker and could be blamed for all three goals. Shouts of 'timber' accompanied his slow-motion dive for Neymar's first while he guided the Barcelona player's second into the roof of the net. The third was a clever disguise by Oscar but Pletikosa's reactions were poor. Defenders didn't help Pletikosa's case, eternally jockeying Oscar for the final strike. Vrsaljko is clearly a bullet on the left and should have exposed the space left by Dani Alves but lacked the intuition to punish Brazil.
The defence, perhaps with the exception of Thiago Silva, looked shaky and ripe for the taking. Julio Cesar is a weak link in the back line and Croatia should have tested him with more efforts on goal. David Luiz, a supposed ball-playing centre-half, distributed the ball atrociously, regularly blasting the ball at or beyond teammates.
Yet Brazil emerged unscathed from their early setback, but a better team than Croatia won't allow a fightback. The Selecao can't always rely on a team to sit on their lead and choke; nor can they rely on the help of questionable refereeing.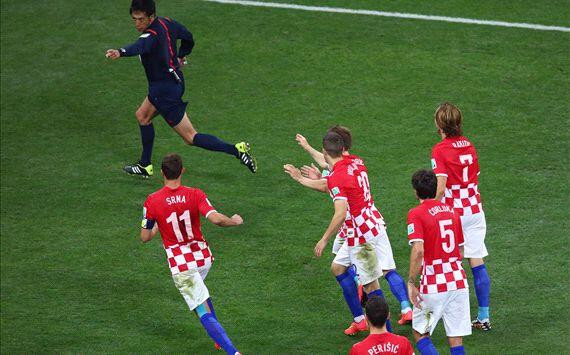 It must be said that appointing Yunichi Nishimura for a game of this magnitude raised a few eyebrows. A Japanese referee officiating a match in Sao Paolo, a city where at least a couple of hundred thousand people of Japanese descent live. Just saying. At the same time, it must be remembered that Nishimura reffed at the last World Cup and issued two red cards in the tournament, one of which was to Brazil's Felipe Melo. Not the most concrete evidence of a lack of corruption but something to note nontheless.
A blow for Croatia to lose a game they deserve something from but I doubt they expected anything from the match coming into it; so they'll bounce back. Rakitic and Modric are a magnificent pairing and will surely play a key role in the next two games; plus the return of Mandzukic will be a huge boost.
Luis Felipe Scolari has some work to do. It should be remembered that his side made a similarly shaky start when they lifted the cup in 2002; triumphing 2-1 over Turkey with a controversial late Rivaldo penalty after initially falling behind. This time they have home advantage in their corner. If Brazil are to have any chance of winning the World Cup the mediocrity will have to be addressed
---
GAMBLING CAN BE ADDICTIVE, PLEASE PLAY RESPONSIBLY