Scenes! Cape Verde squad invade press conference after win over Angola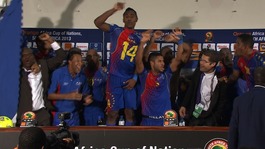 The story of Cape Verde's Islands' ascent to the quarter-final stages of the Africa Cup of Nations is nothing short of miraculous.
With a population of just 567,000 (according to the 2010 census), Cape Verde have progressed from a group containing South Africa, Morocco and Angola without losing a game.
Their win over Angola on Sunday came with two late goals in a dramatic final few minutes.
And, the post match presser was a sight to behold as coach Lúcio Antunes broke into a rendition of "The Biography of a Crioulo" – a Cape Verde song of joy.
Before, literally the whole squad invaded the press conference to dance and sing after their surprise success in South Africa.
---