Sao Paulo keeper Rogerio Ceni tried to kick Valdivia after he scored for Palmeiras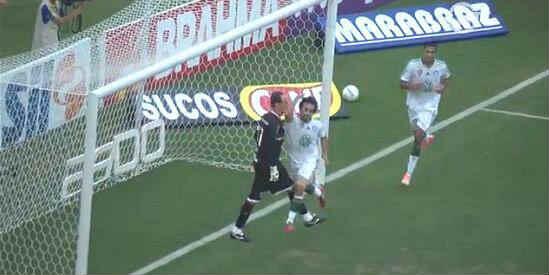 Sao Paulo keeper Rogerio Ceni is far too experienced, far too wily for this to have been an accident.
Palmeiras turned over Sao Paulo 2-0 in the Campeonato Paulista on Sunday night, and Valdivia put the hosts ahead from a first half free-kick.
Palmeiras' Chilean playmaker got the lightest of touches to head home a set-play into the near post, and during his goal celebration he was almost hacked by goalie Rogerio Ceni.
As Valdivia ran across Ceni's path after sticking the ball in the net, the 41-year-old goalie stuck out his left leg in a clear attempt to trip the goalscorer. Fortunately, for the keeper's sake, he was a fraction late on his delivery and Valdivia never saw the incident for matters to get out of control.
Watch the footage below.
---
GAMBLING CAN BE ADDICTIVE, PLEASE PLAY RESPONSIBLY