Samuel Eto'o admits he should have been sent off for challenge on Jordan Henderson (Chelsea 2 – Liverpool 1)
Chelsea's 2-1 win over Liverpool must have been the most incident packed game of the season so far.
A couple of days later, the back pages are still full of conjecture about the performance of Howard Webb although Liverpool fans will not appreciate the fact that Samuel Eto'o gave an "exclusive interview" to The Sun newspaper.
Eto'o said: "Maybe I should have been sent off. But I'm not the referee. Everyone is entitled to their opinion but we must respect decisions from the officials. During the match in the first moments, the game was passionate on both sides, but people know I'm not violent. I was really sad to see Jordan on the floor – I want to take this opportunity to say sorry."
The Cameroon striker continued: "There are days where I'm the one who gets kicked – it's football and can happen unfortunately. But my only intention was to defend and prevent my team from conceding a goal, nothing else. It wasn't to take out an opponent."
Eto'o also added his thoughts on the Luis Suarez penalty claim: "The ref did his job. He was two metres from us. We can't all be the ref and it's easy for people to talk when they are far away. Yes, there was contact – but I didn't commit a foul."
And, the Chelsea striker also suggested that Howard Webb, is "not one of the best referees – he is the best in the world!"
Video of the Eto'o-Henderson incident, which came in just the second minute of Chelsea 2 – Liverpool 1 is below. Followed by a host of the other contentious issues in the game.
Followed by today's back page from The Sun.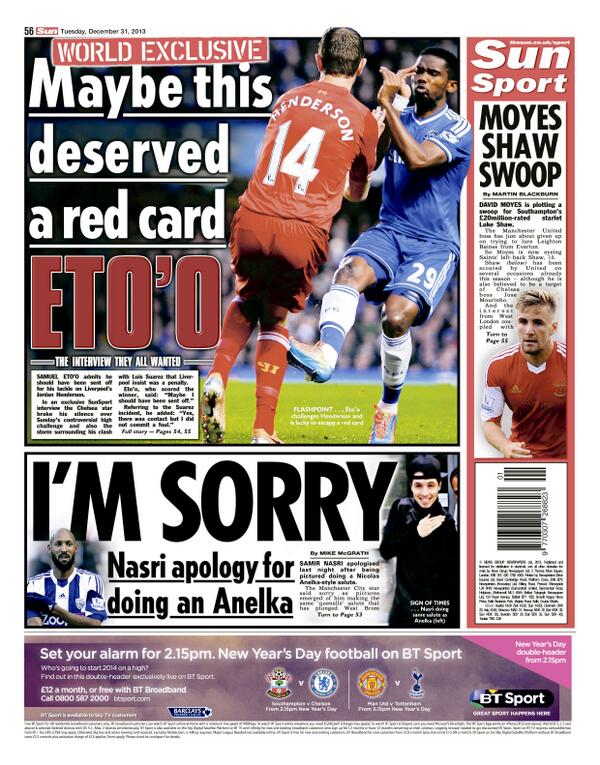 ---