Sambahack! FIFA's 2014 World Cup website gets hacked, users greeted by a dancing Sepp Blatter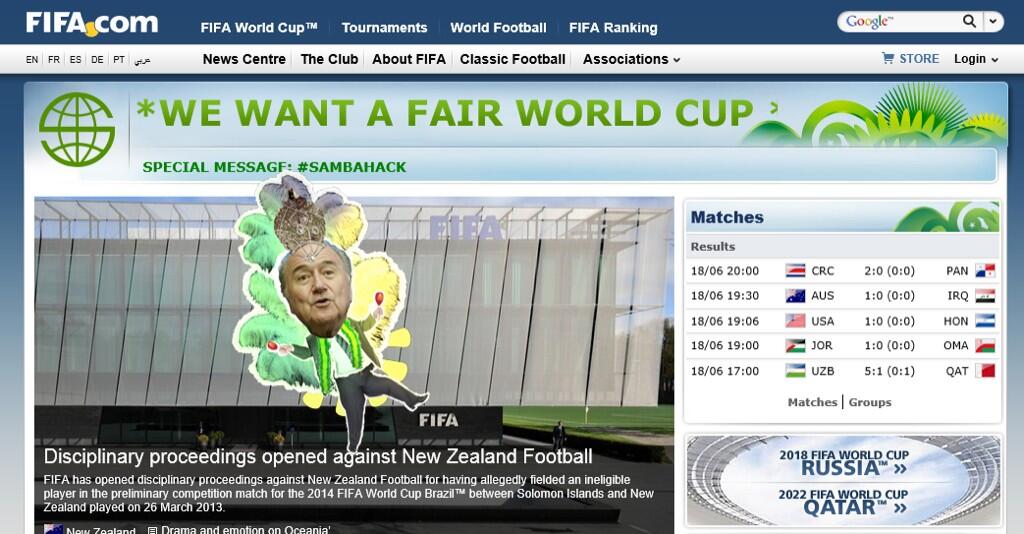 (Screengrab via @bpfootball)
FIFA's 2014 World Cup website was hacked on Sunday night, seemingly by someone within the Brazil protest movement.
Whilst millions of Brazilians currently take to the streets during the Confederations Cup to protest against their government's mega-spending projects ahead of next summer's World Cup, FIFA came under attack from a hacker with a comedy twist.
Users who tried to browse FIFA's 2014 World Cup website were welcome by a "We Want A Fair World Cup" banner, before a dancing Sepp Blatter took over the screen.
Users were then invited to share the hack on Facebook and Twitter.
FIFA's website has since got rid of the hack, but not before a screengrabber managed to record exactly what they saw when they got to the site on Sunday.
Watch the superb Sambahack below.
---
GAMBLING CAN BE ADDICTIVE, PLEASE PLAY RESPONSIBLY