Russian Rebel? Zenit's Igor Denisov blocks out the national anthem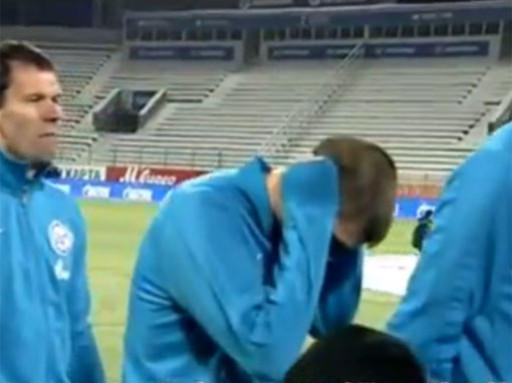 Public dissent against the Russian state rarely goes down well.
Zenit midfielder Igor Denisov has drawn widespread attention for his strange behaviour during the rendition of the Russian national anthem on Monday.
As the music was playing in the pre-match pomp in the match with Anji Makhachkala, Denisov, a 28-year-old with 35 international caps, cupped his ears as if to blatantly block out the sound of the anthem whilst craning his neck towards the ground.
Disrespectful? Maybe, but if Denisov was making a protest nobody seems to know what his point was.
The other theory doing the rounds is far more straightforward. Denisov just had very cold ears.
Come to your own conclusions by watching the video below.
[jwplayer config="For-all-videos" mediaid="267012″]
---
GAMBLING CAN BE ADDICTIVE, PLEASE PLAY RESPONSIBLY