Rumour: Arsenal's Mathieu Flamini threatened "to blind" Stoke's Marc Wilson
Mathieu Flamini is quickly gaining cult status on his return to Arsenal and this rumour is unlikely to dispel any of the love for the French enforcer coming at the Emirates.
Stoke midfielder Marc Wilson was particularly aggressive towards Arsenal youngster Jack Wilshere and Flamini ran up to him and said something during the encounter which meant the Potters midfielder did not challenge the England playmaker again.
Now a rumour has spread (see Facebook post below) that Flamini has been cautioned by the FA for allegedly threatening Wilson with the following suggestion: "Do it again and I will blind you."
Do we believe this rumour? Seems a bit far fetched to us and could well be simply something said in the midst of a keenly fought Premier League game.
Mathieu Flamini's individual highlights in Arsenal's win over Stoke is below.
Related link: Some Arsenal fans still think Mathieu Flamini stinks despite a brilliant performance v Stoke.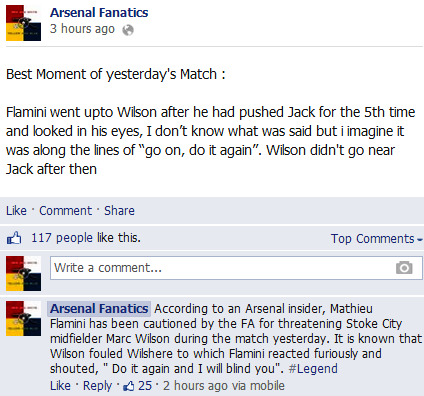 ---
GAMBLING CAN BE ADDICTIVE, PLEASE PLAY RESPONSIBLY